Anise-Scented Sausages with Caramelized Pear & Onion
Autumn 2013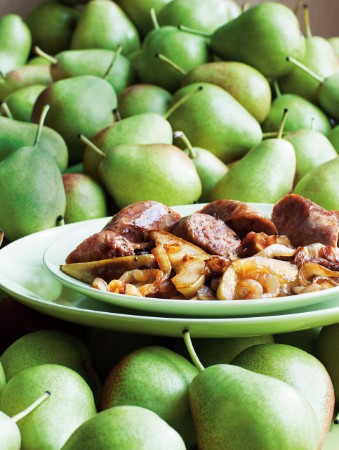 Anise-Scented Sausages with Caramelized Pear & Onion
Autumn 2013
BY: Victoria Walsh
This one-pan dinner requires little effort and just a bit of babysitting to put together. It's easily doubled but the onions will take a little longer to caramelize.
1 tbsp (15 mL) butter
1 tbsp (15 mL) olive oil
1 sweet onion, thinly sliced
2 pears
2 sweet Italian sausages, preferably with fennel seed
1 Add butter and olive oil to a large frying pan and set over medium heat. When bubbly, add onion. Cook, stirring occasionally, for 40 to 50 minutes until they begin to caramelize. Meanwhile, slice pears into thin wedges. When onions begin to caramelize, add pears. Cook, stirring often, for 5 minutes until softened slightly.

2 Push to outer edges of pan. Add sausages to pan. Cook, turning sausages and stirring onion and pears for 15 to 20 minutes until sausages cook through and onion and pears caramelize. Slice sausage, if you desire. Serve with English mustard or Dijon.
SHARE