Almond-Rhubarb Cake with Cream Cheese Frosting
Early Summer 2018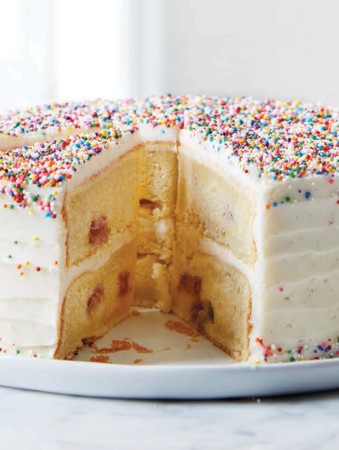 Almond-Rhubarb Cake with Cream Cheese Frosting
Early Summer 2018
BY: Michelle Lucas Larving
The tartness of fresh rhubarb is a natural pairing with the sweet notes of almond in this simple but beautiful cake. The use of cold cream cheese in the frosting allows for a stiffer texture, making it easier for kids and adults alike to frost and decorate as desired
CAKE
3¼ cups (810 mL) all-purpose flour
2½ tsp (12 mL) baking powder
½ tsp (2 mL) salt
1½ cups (375 mL) thinly sliced rhubarb, about ⅓ lb (165 g)
1¼ cups (310 mL) granulated sugar
1 cup (250 mL) unsalted butter, at room temperature
3 eggs
2 tsp (10 mL) almond extract
1 tsp (5 mL) vanilla extract
1½ cups (375 mL) whole milk

FROSTING
3½ cups (875 mL) icing sugar
¾ cup (175 mL) unsalted butter, at room temperature
1 tbsp (15 mL) whole milk
1 vanilla bean, scraped
1 block (250 g) cream cheese, cold and cut crosswise in half
Coloured sugars, glitter flakes or sprinkles, optional
1. Arrange oven rack at centre of oven. Preheat to 350°F (180°C).

2. Lightly butter two 8-inch (2-L) metal cake pans. Line bottoms with parchment. Dust with flour. Set aside.

3. In a medium bowl, whisk together flour, baking powder and salt. Remove 1 tbsp (15 mL) flour mixture and toss with rhubarb in a small bowl. Using a stand mixer, beat sugar and butter on medium speed until light, 1 minute. Add eggs, 1 at a time, just until combined, scraping down sides if needed. Add almond and vanilla extracts. Add flour mixture into butter mixture in 3 parts, alternating with milk in 2 parts. Add rhubarb. Scrape batter into prepared pans; smooth top.

4. Bake in centre of oven until a tester inserted into the centre of cakes comes out clean, 35 to 40 minutes. Transfer to a wire rack and let cool, 10 minutes. Turn out onto rack, remove parchment and let cool completely, 1 hour.

5. Meanwhile, prepare frosting. Using a stand mixer, combine icing sugar with butter, milk and vanilla. Beat on low until combined, 1 minute. Increase speed to medium-high and beat until very pale and fluffy, 5 minutes. Add cream cheese and beat on medium-high just until combined, 30 seconds.

6. When cakes are completely cool, set 1 cake on a cake plate. Spoon just enough frosting to cover with a thin layer. Evenly spread to the edge. Stack with remaining cake to make another layer, then continue with remaining frosting, spreading all around top and sides to cover. Cake can be chilled up to 2 days ahead of serving.
TIP Cake can be baked as cupcakes by spooning batter into two 12-cup muffin pans that have been lined with cupcake papers. Bake in centre of 350°F (180°C) oven, 18 to 20 minutes. Cool completely before frosting and decorating.



Makes 21 cupcakes.
SHARE