A Better Chicken Patty
Early Summer 2019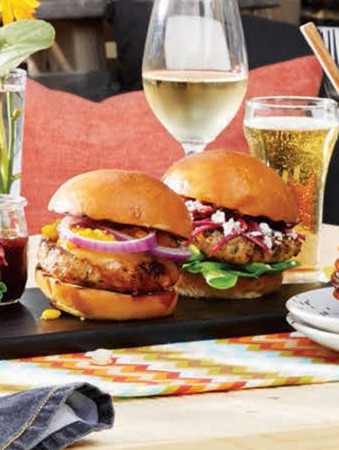 A Better Chicken Patty
Early Summer 2019
BY: Christopher St. Onge
Supermarket ground chicken is wet and sloppy and not great for burgers. Starting with moistened, soft white bread (a trick borrowed from my favourite meatballs), these patties made from home-ground chicken breast are superior in every way. The bacon adds both fat and flavour.
4 slices bacon, roughly chopped
1 slice soft white sandwich bread
3 cloves garlic
1½ lbs (680 g) skinless boneless chicken breast, about 3 medium
1 tsp (5 mL) salt
¼ tsp (1 mL) freshly ground black pepper
1 tbsp (15 mL) finely chopped thyme
1 Combine the bacon, bread and garlic in a food processor; work the mixture on high until it forms a paste. Scrape into a large bowl and set aside.

2 Chop chicken into rough chunks; working in batches, coarsely grind in food processor and add to bowl with bacon.

3 Sprinkle salt, pepper and thyme over. Mix to combine and form into 4 equal-sized patties ¾ inch (2 cm) thick (patties may be made up to a day in advance, covered tightly with cling wrap and refrigerated).

4 Grill over high heat for 3 to 4 minutes per side or until internal temperature reaches 165°F (74°C) on an instant-read thermometer. Brush with Bourbon- Marmalade Sauce; serve with additional sauce and Burger Fixings. Fresh pineapple slices are an especially delicious topping here.
BOURBON-MARMALADE SAUCE
Use the sort of chili powder here that you would in Texas-style chili. The glaze is great on grilled chicken wings too; just be sure to add it after the cooking, as the sugar in the marmalade burns quickly.

¼ cup (60 mL) ketchup
½ cup (125 mL) marmalade
2 tbsp (30 mL) apple cider vinegar
¼ cup (60 mL) bourbon
½ tsp (2 mL) chili powder
¼ tsp (1 mL) garlic powder
¼ tsp (1 mL) salt
1 Whisk all ingredients together in a small saucepan over medium heat and bring to a boil. Turn heat to low and reduce to ¾ cup (175 mL), about 12 minutes. Sauce can be made up to 5 days in advance. Cover and refrigerate until ready to use.
SHARE