Pepperoni & Ricotta Stuffed Giant Shells
Autumn 2017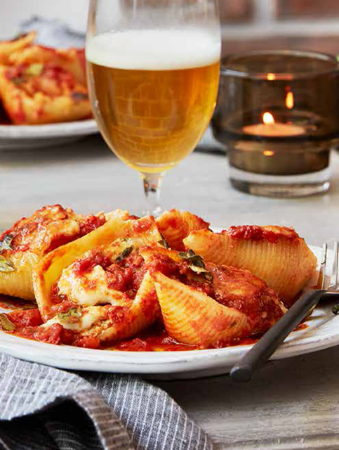 Pepperoni & Ricotta Stuffed Giant Shells
Autumn 2017
BY: Christopher St. Onge
The filling and sauce here are inspired by the flavours of takeout pepperoni pizza. You can make these instead in small individual dishes—simply divide the ingredients between two 2-cup (500-mL) ovenproof dishes. Bake as directed for the larger dish.
FILLING
1 cup (250 mL) ricotta
8 large basil leaves, roughly chopped
1 oz (30 g) pepperoni or soppressata, roughly chopped
1 egg
2 tbsp (30 mL) finely grated Parmesan
Salt and freshly ground pepper to taste
10 giant pasta shells
1¼ cups (310 mL) Pizza Sauce (recipe follows)
1 pkg (125 g) buffalo mozzarella, drained
2 tbsp (30 mL) finely grated Parmesan


1 For the filling, combine ricotta, basil, pepperoni, egg and Parmesan in a food processor; pulse to finely chop basil and pepperoni. Season to taste with salt and pepper; set aside.
2 Preheat oven to 375°F (190°C).
3 Cook giant pasta shells according to package directions; drain. Spread ¾ cup (175 mL) of the Pizza Sauce over bottom of an 8 x 8-inch (20 x 20-cm) baking dish, or other 4- to 6-cup (1- to 1.5-L) ovenproofdish. Divide ricotta mixture between shell cavities and arrange shells with openings facing up over sauce. Divide remaining ½ cup (125 mL) sauce over shells.
4 Tear mozzarella into 10 equal pieces and arrange over shells. Sprinkle Parmesan over, cover dish tightly with foil and bake in preheated oven for 35 minutes or until pasta is tender. Remove foil and broil on high for about 2 minutes to brown top. Let stand for 10 minutes before serving.
Pizza Sauce
This is classic Italian-American style pizza sauce. It beats the stuff in cans by a mile and makes enough for two 12-inch (30-cm) pizzas or enough for a double portion of the preceding Giant Shells.
3 tbsp (45 mL) olive oil
2 cloves garlic finely chopped or grated
¼ tsp (1 mL) red pepper flakes
1 can (798 mL) Italian tomatoes, coarsely crushed
1 tsp (5 mL) salt
1 tsp (5 mL) sugar
1½ tsp (7 mL) dried oregano


1 Heat oil over medium heat in a medium pot; add garlic and red pepper flakes and fry for 30 seconds or until fragrant. Stir in tomatoes, salt, sugar and oregano. Bring to a boil, reduce to low and simmer for 20 minutes or until thickened.
Makes about 2½ cups (625 mL)
Share