Strozzapreti with Red Wine Chicken Sauce and Crunchy Spinach
Spring 2005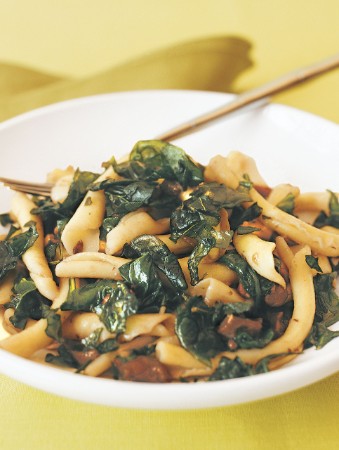 Strozzapreti with Red Wine Chicken Sauce and Crunchy Spinach
Spring 2005
BY: Lucy Waverman
Strozzapreti is a type of twisted pasta that is sometimes available in upscale grocery stores. If you can't find it, you can substitute with spaghetti. Paganelli uses Sangiovese wine for this sauce, but you could use any Chianti. As a first course, the amount of pasta is substantially less than it would be for a main course. He gave us the recipe for making the pasta but we elected to use packaged pasta instead
1 cup (250 mL) red wine
6 cups (1.5 L) baby spinach
Vegetable oil for frying
Salt
2 tbsp (25 mL) extra virgin olive oil
1 cup (250 mL) finely chopped onion
1 tsp (5 mL) chopped garlic
8 oz (250 g) diced dark chicken meat
1 cup (250 mL) chicken stock
Freshly ground pepper
8 oz (250 g) dried pasta
2 tbsp (25 mL) unsalted butter
1. Bring wine to boil in small pot over high heat. Boil for 6 to 8 minutes or until reduced to 1/3 cup (75 mL). Reserve.

2. Slice 3 cups (750 mL) baby spinach into shreds. In a wok, heat 1-inch (2.5-cm) vegetable oil over high heat. When oil is very hot, fry shredded spinach for 1 to 2 minutes or until spinach stops bubbling and becomes translucent and crispy. Use caution as the spinach makes the oil splatter and pop. Remove to strainer and allow to drain. Work in batches to make sure you don't overload the wok. Season with salt.

3. Heat olive oil in skillet over medium-high heat. Add onion and sauté for 2 minutes or until softened. Add garlic and chicken and sauté for 2 minutes or until chicken is slightly browned.

4. Add stock and wine to skillet and bring to boil.

5. Reduce heat to low and gently simmer for 20 to 25 minutes, or until sauce has thickened slightly and chicken is tender. Bring a pot of salted water to boil. Add pasta and cook until al dente.

6. Add remaining 3 cups (750 mL) uncooked spinach to skillet. Stir together with sauce until spinach is slightly wilted. Season with salt and pepper. Toss drained pasta with sauce, stir in butter and sprinkle with crispy spinach.
SHARE