Steak with Double Cranberry Reduction
Holiday 2000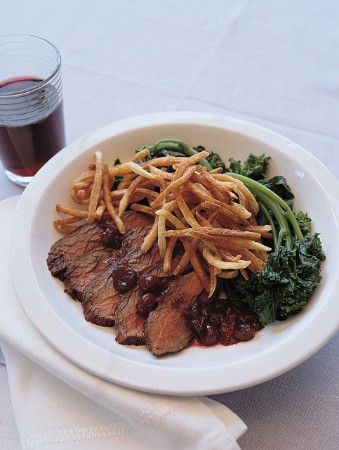 Steak with Double Cranberry Reduction
Holiday 2000
BY: Jennifer McLagan and Heather Trim
This is an excellent sauce to accompany a tenderloin steak. The tart flavour of the cranberries also pairs particularly well with ostrich (available from specialty butchers). Farmed in Ontario, ostrich is very similar in appearance and taste to beef but has less fat and fewer calories. It must be served rare or medium rare.
Six 1 1/2-inch (4-cm) tenderloin steaks
Salt and freshly ground pepper
1/4 cup (50 mL) vegetable oil, divided
1/3 cup (75 mL) diced shallots
3 tbsp (45 mL) dried cranberries
1 cup (250 mL) fresh or frozen cranberries
2 cups (500 mL) dry red wine
2 tbsp (25 mL) maple syrup
Salt and freshly ground pepper
1. Remove meat from the refrigerator and season.

2. Heat 2 tbsp (25 mL) vegetable oil in a skillet over medium heat. Add shallots and cook until softened, about 3 minutes. Add remaining ingredients, except maple syrup and seasoning, and bring to a boil. Continue to boil until cranberries pop and the sauce reduces and thickens slightly about 5 to 7 minutes. Remove from heat, place in bowl, add maple syrup and season.

3. Clean pan and return to heat. Add remaining oil, and cook steaks as desired. For 1-inch (2.5-cm) thick ostrich steaks allow about 4 1/2 to 5 minutes a side. Remove cooked steaks from pan, set on a warm plate and cover with foil. Discard any fat, then add cranberry sauce to pan and stir to loosen any brown bits.

4. Slice steak across the grain and pour over cranberry reduction.
SHARE