Spice Cake with Dulce de Leche Icing and Toffee
Holiday 2006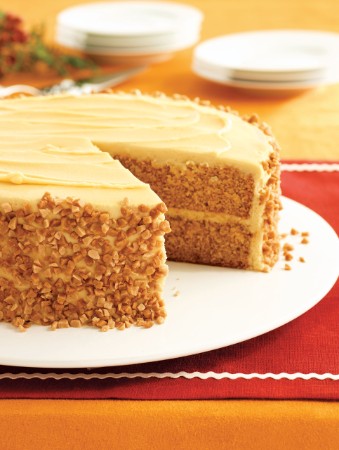 Spice Cake with Dulce de Leche Icing and Toffee
Holiday 2006
BY: Marilyn Bentz-Crowley
Caramel and spice are a flavourful pairing, while toffee bits add a crunchy dimension.
Cake
2 eggs
2 cups (500 mL) cake and pastry flour
2 tsp (10 mL) baking powder
½ tsp (2 mL) baking soda
1 tsp (5 mL) cinnamon
½ tsp (2 mL) allspice
¼ tsp (1 mL) freshly grated nutmeg
¼ tsp (1 mL) salt
¾ cup (175 mL) unsalted butter, softened
1 cup (250 mL) lightly packed brown sugar
1 tsp (5 mL) vanilla
1 cup (250 mL) milk

Icing
¾ cup (175 mL) unsalted butter, softened
¾ cup (175 mL) dulce de leche
1½ tsp (7 mL) vanilla
2 cups (500 mL) sifted icing sugar
3½ to 7 oz 105 to 200 g) toffee bits
1. Place refrigerated eggs into a small bowl; cover with hot tap water and set aside.

2. Preheat oven to 350ºF (180ºC).

3. Grease two 9-inch (23-cm) cake pans or coat with cooking spray; line bottoms with circles of waxed or parchment paper. To measure flour, stir and then spoon into measuring cups before leveling with a knife. In a large mixing bowl, thoroughly sift flour with baking powder, baking soda, spices and salt 2 or 3 times.

4. Using an electric mixer with paddle or beaters, cream butter on high for 5 minutes or until lighter in colour with increased volume. Gradually add sugar while beating for another 5 minutes. Remove eggs from tap water; discard water. Add eggs to butter mixture, 1 at a time, thoroughly beating on medium speed after each addition. Add vanilla. Using a large rubber spatula, stir in 1/3 of the dry mixture just until combined; then mix in half of milk. Repeat with another 1/3 of dry mixture, remaining half of milk and final 1/3 of dry mixture.

5. Dividing equally, spoon batter into lined pans. Bake in centre of preheated oven for 25 minutes or until a cake tester inserted into the centre comes out clean. Cool on rack for 10 minutes. Then cover another cooling rack with a clean tea towel. Place towel-side down over cake in pan; invert. Remove pan and paper. Place original rack top-side down on cake bottom and invert. Remove top rack and towel. Repeat with second layer. Cool cakes completely.

6. To make icing, beat butter in a large mixing bowl on high speed until lighter in colour and somewhat fluffy. Add dulce de leche and vanilla; beat at medium to high speed for 3 minutes or until lighter in colour and fluffy. Stop and scrape down sides as needed. Then on low speed, beat in icing sugar ½ cup (125 mL) at a time until smooth.

7. Assembling layers is easiest when flat sides meet with filling in between. So invert 1 layer flat-side up on cake stand or serving plate. Evenly spread with about 1/3 of the icing. Carefully place another layer over top, flat-side down. Frost top and sides with remaining icing. Using small handfuls, press toffee bits into sides. (All the toffee bits may not be used.) Covered, cake keeps well for 1 to 2 days at room temperature.

Dulce de Leche

This utterly delicious thickened caramel requires only one ingredient and time. Because of this latter factor, make extra as dulce de leche keeps well in the refrigerator for a week or more, and can be frozen.

2 to 4 cans (300 mL each) sweetened condensed milk
Oven method
1.  Preheat oven to 425ºF (200ºC).

2.  Bring a kettleful of water to a boil. Remove labels and tops from cans. Cover each individual can top with foil, pressing firmly about halfway down outside of can. Place in a large flat-bottomed casserole dish. Pour boiling water into dish until ½-inch (1-cm) from tops of cans, thus creating a water bath. Cover with casserole lid. Bake 2 hours, without disturbing except to check water level occasionally; add more boiling water only if level drops drastically. After 2 hours, lift cans from water bath with tongs; cool on a rack with foil still in place. Then use or refrigerate up to a week or freeze. Cold dulce de leche is very thick so bring to room temperature before stirring thoroughly.

Each can makes 1¼ cups (300 mL)


Pressure Cooker Method
1.  Remove labels and tops from cans. Cover each individual can top with foil, pressing down outside of can. Place on bottom of pressure cooker. Pour water into pan until ½-inch (1-cm) from tops of cans, thus creating a water bath. Cover and secure pressure cooker lid according to manufacturer's instructions. Bring to a boil over high heat. When hissing, depress the pressure valve. Lower heat so water is simmering and a low hiss of steam is audible. Simmer 45 minutes. Then remove cooker from heat and release pressure valve. Cool 10 to 20 minutes or until able to open cooker. Lift cans from water bath with tongs; cool on a rack with foil still in place. Then use or refrigerate up to a week or freeze. Cold dulce de leche is very thick so bring to room temperature before stirring thoroughly.

Each can makes 1¼ cups (300 mL)
SHARE