North, East, South & West Devilled Eggs
Spring 2013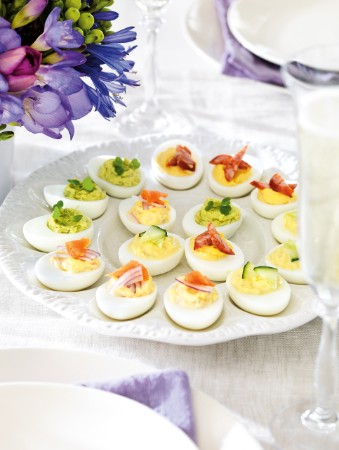 North, East, South & West Devilled Eggs
Spring 2013
BY: Jennifer MacKenzie
Devilled eggs are always popular at a party. With influences from around the globe, this version offers four flavourful fillings that are sure to please everyone. Present them on a large platter, positioning the different flavours in the points of a compass. Print up a legend with the filling descriptions on a card to display and give people a "tour" of the platter. Cook the eggs and mix up the fillings a day ahead, then assemble them on the day of serving. Before you fill the whites, if they aren't standing upright, cut a thin slice from the bottom to make a flat surface.
16 large-size eggs
Salt and pepper

NORTH
¼ cup (60 mL) sour cream or mayonnaise
2 tbsp (30 mL) minced smoked salmon (about 1 slice)
1 tsp (5 mL) drained capers, minced
1 tsp (5 mL) fresh lemon juice
16 thin slices red onion, about ¾ inch (2 cm) long
8 small strips smoked salmon

EAST
3 tbsp (45 mL) plain yogurt (approx.)
1 tbsp (15 mL) Major Grey or other fruit chutney
¼ tsp (1 mL) curry powder
2 thin slices English cucumber, cut into quarters

SOUTH
¼ cup (60 mL) mayonnaise
½ tsp (2 mL) Dijon mustard
¼ tsp (1 mL) smoked paprika
4 thin, diagonal slices cured chorizo sausage, cut in half

WEST
½ avocado, diced, about ½ cup (125 mL)
4 tsp (20 mL) fresh lemon juice
2 tbsp (30 mL) flaked cooked crabmeat (optional)
Radish, alfalfa or onion sprouts
1 Place eggs in a large shallow pot or deep skillet and add cold water to cover by at least 1 inch (2.5 cm). Bring to a boil over high heat. Remove from heat, cover and let stand for 17 minutes. Drain off hot water and run cold water into the pot to cover eggs. Let stand, refreshing with more cold water to keep water cool, until eggs are cold. Drain and peel eggs, then rinse and pat dry.

2 Line a baking sheet with damp paper towel. Cut eggs in half lengthwise, wiping the blade of the knife with a damp cloth between each cut. Pop yolks out of whites, placing yolks from 8 halves into each of 4 separate bowls. Place whites, cut-side up, on lined baking sheet and cover with plastic wrap. Refrigerate whites until ready to assemble, for up to 1 day.

3 For the fillings, mash yolks with a fork to fine crumbs in each separate bowl.

4 To each bowl, add the filling ingredients. For the North filling, mash in sour cream, minced salmon, capers and lemon juice.

5 For the East filling, mash in yogurt, chutney and curry powder, adding a little more yogurt if filling is too dry.

6 For the South filling, mash in mayonnaise, mustard and paprika.

7 For the West filling, mash avocado with yolks until fairly smooth with very small pieces of avocado. Stir in lemon juice and crab (if using).

8 Season each filling with salt and pepper to taste. Fill eggs or place plastic wrap directly on the surface of each filling and refrigerate for up to 1 day.

9 To assemble, spoon each filling into 8 of the whites, mounding generously (if any filling doesn't fit, refrigerate, then serve spread on crackers or slices of baguette). Garnish to serve right away or cover loosely with plastic wrap and refrigerate for up to 8 hours.

10 Just before serving, arrange eggs on a large serving platter. Garnish North eggs with red onion and strips of salmon. Insert cucumber quarters point-down into East filling. Place chorizo on top of South filling, pressing lightly. Press a small bouquet of sprouts on top of West filling.
SHARE