Maple Cream Walnut Tarts
Spring 2008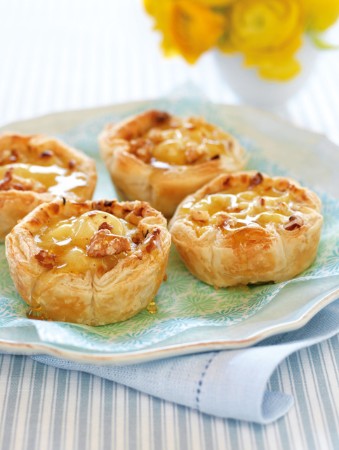 Maple Cream Walnut Tarts
Spring 2008
BY: Nicole Young
By Nicole Young

Maple syrup, in any form, is a staple at our Easter table. These tarts are filled with creamy maple custard that is surrounded by a buttery puff pastry crust with a hint of crunchy walnuts. If you have the time, nothing beats puff pastry made from scratch, but frozen pastry makes this simple to prepare. Drizzle a bit of maple syrup overtop each just before serving for a truly decadent treat.
1 lb (500 g) frozen all-butter puff pastry, thawed
½ cup (125 mL) finely chopped, toasted walnuts
½ cup (125 mL) granulated sugar
½ cup (125 mL) all-purpose flour
¼ tsp (1 mL) salt
1¾ cups (425 mL) 3.25% milk
½ vanilla bean, split lengthwise
6 egg yolks,
½ cup (125 mL) pure maple syrup
1. Roll out puff pastry ⅛-inch (3-mm) thick. Sprinkle evenly with walnuts, pressing gently into the dough. Cut dough into ten 4-inch (10-cm) rounds. Fit into muffin tins, cover with plastic wrap and freeze.

2. Preheat oven to 425°F (220°C).

3. Whisk together sugar, flour and salt in a bowl until well combined. Set aside.

4. In a saucepan, bring milk and vanilla just to a boil, about 5 minutes. Remove vanilla pod, scraping out any seeds with the tip of a knife. Sift flour mixture over milk and stir, using a wooden spoon. Reduce heat to medium-low, stirring constantly, until mixture is thick enough to coat the back of a spoon, about 8 minutes. Remove from heat.

5. In a bowl, whisk egg yolks until smooth. Whisk in ½ cup (125 mL) of the hot milk mixture until combined and slowly pour the egg mixture back into the milk, whisking to keep it smooth. Whisk in maple syrup. Transfer to liquid measuring cup or bowl with a pouring spout.

6. Remove tart shells from freezer. Pour the filling into the frozen pastry shells about ¼-inch (5 -mm) from the top. Place on baking sheet; bake in the bottom third of the oven for 10 to 12 minutes. Turn oven to broil and cook for another 2 to 4 minutes, or until tops have dark brown patches and custard is set. Let cool in pan 1 minute and transfer to baking rack to cool.

7. Serve warm or at room temperature within 1 day.
SHARE