Lemon Yogurt Poppyseed Olive Oil Loaf
Autumn 2015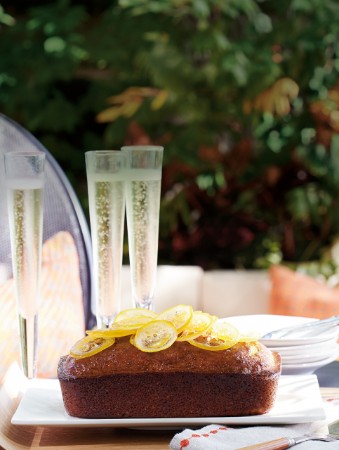 Lemon Yogurt Poppyseed Olive Oil Loaf
Autumn 2015
BY: Signe Langford
With the addition of Greek yogurt, lemon-flavoured olive oil and limoncello, we've taken the classic lemon loaf up not one, not two, but three notches—at least! Not only does the glaze add yet another layer of flavour, it adds moisture to the crumb and crunch to the crust. Don't skip this delicious step!
1 cup (250 mL) full-fat, plain Greek yogurt
3 large free run eggs
Zest of 1 lemon
½ tsp (2 mL) vanilla extract
3 tbsp (45 mL) poppy seeds
1 cup (250 mL) sugar
1½ cups (375 mL) all-purpose flour
2 tsp (10 mL) baking powder
½ tsp (2 mL) sea salt
¼ cup plus 2 tbsp (60 mL plus 30 mL) lemon-infused olive oil
1 batch Limoncello-Spiked Lemon Glaze (recipe follows)
Candied Lemon Slices as optional garnish (recipe follows)
1 Preheat oven to 350°F (180°C). Butter or spray with nonstick coating and line bottom of a 5 x 9-inch (12 x 23-cm) loaf pan with parchment. Set aside.

2 In a large bowl, using a whisk, blend the yogurt, eggs, lemon zest, vanilla, poppy seeds and sugar.

3 In a small bowl, using a whisk, blend the flour, baking powder and salt, breaking any clumps.

4 Add the dry ingredients to the egg and yogurt mixture; blend until well combined. Add the oil and stir it in.

5 Pour batter into the loaf pan and bake until a cake tester inserted into the centre comes out clean, about 60 minutes.

6 Set a cooling rack over a piece of foil or parchment or on a cookie sheet. You'll need it later, when you glaze the loaf.

7 Cool the cake in the pan for about 10 minutes, run a dull knife around the edges, then transfer to the cooling rack.

8 With cake tester or toothpick, poke about a dozen holes into the top—going about halfway through the loaf.

9 Using a pastry brush (a spoon will do in a pinch), spread warm Limoncello-Spiked Lemon Glaze over the still warm cake. You may
need to pause to allow the liquid to soak in before adding more, but do use it all up. Brush the sides of the loaf, too! While the loaf cools, make the Candied Lemon Slices.
Makes 1 loaf that is 5 x 9 inches (12 x 23 cm) or 2 small loaves

LIMONCELLO-SPIKED LEMON GLAZE
In a small saucepan over medium heat, combine the juice of 1 lemon (should be about ¼ cup/60 mL lemon juice), ¼ cup (60 mL)
sugar, and 1 oz limoncello liqueur, and stir until the sugar dissolves completely, about 3 to 5 minutes.
Makes about ⅓ cup (80 mL)
CANDIED LEMON SLICES

Making these sweet-tart decorations isn't hard, but if you are short on time, they can be purchased at fancy grocers. And since we're going to be eating the peel, organic lemons are best. Don't dump the leftover syrup; it's Lemon Simple Syrup now and can be used in drink and dessert recipes!

1 organic lemon, washed
1 cup (250 mL) sugar
1 cup (250 mL) water
1 Wash and slice the lemon as thinly as possible—aim for a maximum of about ⅛-inch (3‑mm) thickness or less. A mandolin is great for this, but a good, sharp knife will work. Remove seeds and discard the 2 solid end bits.

2 Set a wire cooling rack over a piece of foil, parchment or cookie sheet. Set aside.

3 Fill a large bowl with cold water and ice. Set aside.

4 Bring a large pot of water to a low boil, and add the lemon slices. Gently boil for 7 to 10 minutes. Lift out with a slotted spoon and add to ice water.

5 In a small saucepan, combine the sugar and water and bring to a gentle boil over medium-high heat. Once the sugar has dissolved, remove the lemon slices from the ice water, and add to the sugar-water pot. Simmer on low for about 15 to 20 minutes. Watch heat and make sure the sugar mixture does not begin to caramelize or turn brown.

6 Use a slotted spoon or tongs to carefully lift out the lemon slices and transfer to a tightly woven wire cooling rack. Tip: if the wires of the rack are too far apart, the slices will sag between them. Arrange so they don't touch or overlap, and let rest to dry for about 1 to 2 hours. Lemon slices will still be a bit sticky when dry.

7 Arrange slices on top of loaf any way you like. Any slices not used to garnish the loaf can be stored between pieces of parchment
or wax paper in an airtight container in the fridge for about 1 week.
Makes about 8 large slices from the middle of the lemon
SHARE