Grilled Corn & Vegetable Salad with Chimichurri
Summer 2019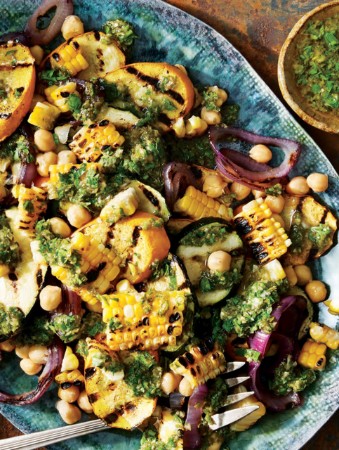 Grilled Corn & Vegetable Salad with Chimichurri
Summer 2019
BY: Amy Rosen
During a recent long weekend, we suddenly found ourselves with a cottage full of guests looking for a midday refuel. I hit the barbecue (and kitchen) and threw together a few family-sized salads, including this one, which uses the harvest of the season, chickpeas for protein and a herbaceous sauce for kick.
CHIMICHURRI
1 cup (250 mL) packed flat-leaf parsley, roughly chopped
2 green onions, sliced
1 large shallot, chopped
1 tbsp (15 mL) pickled jalapeños
Zest and juice of 2 lemons
2 garlic cloves, chopped
½ cup (125 mL) red wine vinegar
1 tsp (5 mL) kosher salt
¾ cup (175 mL) extra virgin olive oil
4 cobs of corn, shucked and cleaned
3 large zucchini, thickly sliced on the bias
2 yellow summer squash, thickly sliced on the bias
1 large red onion, thickly sliced into rounds
2 tbsp (30 mL) olive oil
Kosher salt and pepper to taste
1 can (540 mL) chickpeas, rinsed and drained
1 For chimichurri, add parsley, green onion, shallot, jalapeños, lemon zest and juice, garlic, vinegar and salt to a small food processor and pulse several times. Then stream in olive oil until it just comes together but still has texture. Taste for seasoning and adjust if needed. Refrigerate and set aside.

2 Preheat barbecue to high, about 500°F (260°C).

3 Toss prepared vegetables in olive oil and season with salt and pepper. Start with corn and grill on all sides, turning often, until slightly charred all over and cooked through, about 10 minutes. Remove and set aside. Spread out zucchini, squash and red onion over grill and cook until lightly browned and cooked through, flipping after several minutes, 7 to 10 minutes in total. Remove to a large bowl and set aside. Lightly toss with chickpeas.

4 When corn is cool enough to touch, slice kernels off in long planks, keeping the kernels together as much as possible.

5 On a large serving platter, artfully arrange vegetables and corn and drizzle with about ¼ cup (60 mL) chimichurri, leaving a bowl on the side for people to add extra. Season with salt and pepper to taste.
SHARE