Elora Highball
OCTOBER 2020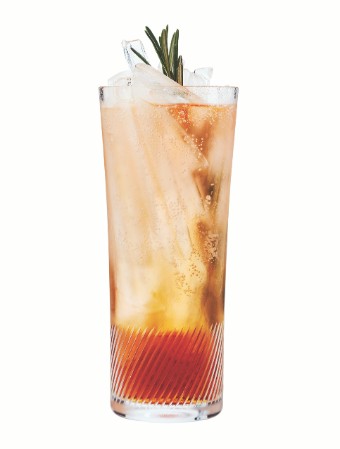 Elora Highball
OCTOBER 2020
BY: Christina Veira
Local Icewine brings honey-raisin notes to this aromatic twist on the classic Scotch and tonic. Cranberry bitters add a taste of autumn.
1½ oz Johnnie Walker Black 12 Years Old Scotch Whisky
½ oz Juniper-Infused Dry Vermouth (see recipe below)
½ oz Icewine syrup (see tip below)
Aromatic tonic, such as Fever-Tree
2 dashes bitters, such as Bittered Sling Autumn Bog Cranberry Bitters
Rosemary sprig, for garnish
Pour whisky, vermouth and syrup into a collins glass filled with ice. Top with tonic and bitters. Stir to mix. Garnish with rosemary.

Tip
You can order Icewine syrup through a cocktail supply store or look for it in gourmet food stores.

Juniper-Infused Dry Vermouth
2 tbsp (30 mL) dried juniper berries
1 bottle (750 mL) dry vermouth
Lightly muddle juniper berries in a mortar and pestle or the base of a cocktail shaker just until crushed. Add to vermouth bottle. Seal and refrigerate for 1 hour. Strain through a fine-mesh strainer, discarding juniper berries. Using a funnel, pour vermouth back into bottle. Infused vermouth will keep well, sealed and refrigerated, for at least 3 months.
SHARE