Beer Doughnuts
Winter 2016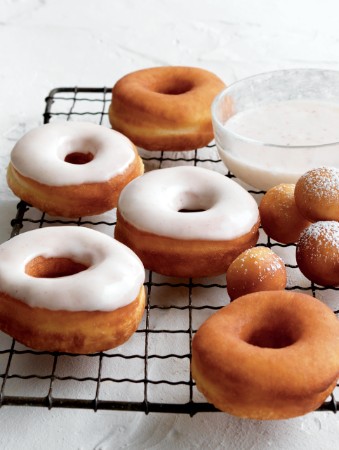 Beer Doughnuts
Winter 2016
BY: Lucy Waverman
These doughnuts are very straightforward to make. The dough used is similar to a brioche dough. By adding beer you'll find that the doughnut rises beautifully, fries to an eye-appealing golden colour and has undertones of the beer's flavours. These doughnuts will reheat but they are always best right out of the fryer. Melted chocolate is another option for a glaze.
1 cup (250 mL) wheat beer
2 tsp (10 mL) instant yeast
4 cups (1 L) all-purpose flour plus extra
¼ cup (60 mL) sugar
2 tsp (10 mL) salt
3 eggs
¼ cup (60 mL) butter, softened
Vegetable oil for deep-frying

GLAZE
1 cup (250 mL) icing sugar
2 tbsp (30 mL) milk
¼ tsp (1 mL) ground star anise
1 Heat ¼ cup (60 mL) beer in a small pot until just warm, about 75°F (24°C). Stir in yeast until dissolved.

2 Combine flour with sugar, salt, eggs, butter, remaining beer and warm yeast mixture in a stand mixer fitted with a dough hook attachment. Mix on medium speed for 2 minutes. Scrape down bowl and beat for 4 more minutes or until the dough leaves the sides of the bowl, scraping down one more time. Dough will be soft and slightly sticky. If you do not have a large mixer then use a smaller hand mixer and beat together until a dough starts to form, then hand-knead until it feels supple.

3 Scrape dough into a clean bowl and cover with plastic wrap. Let rest at room temperature to rise for 1 hour or until doubled in bulk.

4 Turn out dough onto a well-floured board and punch down to flatten. Sprinkle the top with flour. Roll out to about ¼-inch (5-mm) thickness. Using a 3-inch (8-cm) cutter, cut out rounds and place on a floured surface. You will have about 15. Remove centres with a 1-inch (2.5-cm) cookie cutter for doughnut holes. Cover doughnuts and centres loosely with plastic wrap and let rise for 30 minutes.

5 Heat enough oil to fill 2-inch (5-cm) depth in a medium pot or wok over medium heat until the temperature reaches 350°F (180°C). Place rounds of dough into the pan and fry in batches, turning often, until doughnuts are golden on each side, about 2 minutes. Doughnut centres will take slightly less time. Drain on paper towels.

6 Stir icing sugar with milk and star anise until smooth and runny. Add more milk if needed. Dip one side of warm doughnuts into glaze and let cool on rack. Pour glaze over doughnut holes or sprinkle with a little icing sugar.
SHARE