Apricot & Cider Mustard
Early Summer 2016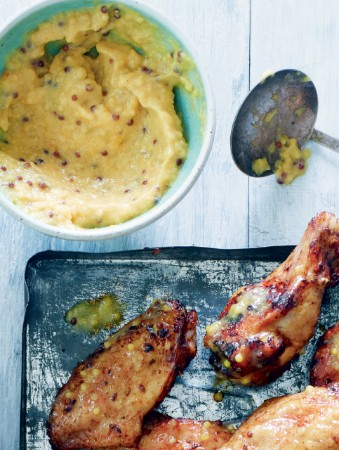 Apricot & Cider Mustard
Early Summer 2016
BY: Christopher St. Onge
Hit with fruit two ways, this mustard is sweet summery goodness. It needs to rest for a week in the fridge before using, so plan ahead. As it matures, the mustard loses bitterness and gains depths of fruit flavour that works with backyard barbecued goodness and more refined fare too.
1/2 cup (125 mL) chopped dried apricots
½ cup (125 mL) hard cider, stirred until flat
½ cup (125 mL) apple cider vinegar
2 tbsp (30 mL) yellow mustard seeds
1 tbsp (15 mL) brown mustard seeds
¼ cup (60 mL) Keene's mustard powder
¼ tsp (1 mL) salt
1 Combine all ingredients in a 2-cup (500‑mL) glass jar, cover loosely and rest for 24 hours on the countertop. Turn out into a food processorand pulse until apricot has broken down and mustard is mostly smooth but mustard seeds remain whole. Cover and refrigerate for a week before using. Mustard will keep, refrigerated, for a month.
SHARE