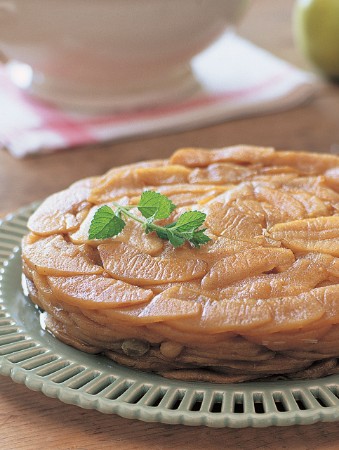 BY: Lucy Waverman
This dessert is a stunning apple confection. Cooked very slowly in the oven for many hours, the apples fall into a dark brown mass and once cooled, cut like a cake. Serve with cinnamon or licorice ice cream for a perfect fall dessert. The cake keeps very well refrigerated and stays fresh for about 10 days. Substitute 1/2 tsp (2 mL) cinnamon for allspice, if desired.
8 Spy apples
1 tbsp (15 mL) grated orange rind
1/4 tsp (1 mL) allspice
3/4 cup (175 mL) sugar
1/2 cup (125 mL) raisins, optional
2 tbsp (25 mL) butter
1. Preheat oven to 250°F (120°C).
2. Peel, core, and thinly slice apples. Toss with orange rind and allspice.
3. In a 9-inch (23 cm) round cake pan, place apples in thin even layers with round side of slices against the edge of the pan, then fill in the middle and any other gaps. Sprinkle with sugar and raisins and dot with butter as you go. Apples will come about 1-inch (2.5 cm) above the rim of the cake pan but will shrink as they cook. Cover with foil and place on a baking sheet in the oven.
4. Bake for 5 hours. Turn off the oven and remove foil. Let cool in oven. Remove from oven and invert onto a plate with a slight rim to collect any juices.
SHARE