Spiced Plum Salad
Été 2018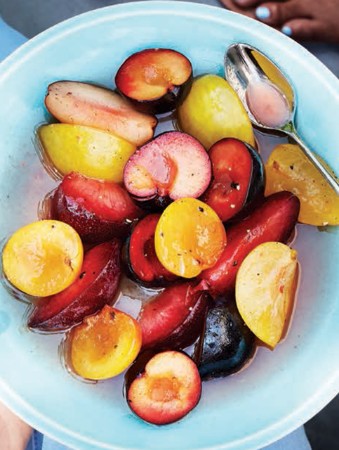 Spiced Plum Salad
Été 2018
BY: Christopher St. Onge
This simple plum salad is great with pound cake or even served alongside ice cream. Let the salad sit for a few hours before serving. Use whatever plums you can find but avoid purple late season plums, the kind used to make prunes, as they are fibrous and somewhat flavourless.
2 lbs (905 g) assorted plums
Juice of 1 lime
2 tbsp (30 mL) honey
¼ tsp (1 mL) Chinese five-spice powder
¼ tsp (1 mL) coarsely ground black pepper
2 tsp (10 mL) ginger juice (see TIP)
1. Cut small plums in half and large plums into wedges; remove and discard pits. Add to a large salad bowl.

2. In a separate small bowl, whisk together lime juice, honey, five-spice, pepper and ginger juice; pour over plums and gently toss. Cover and refrigerate until chilled, to allow flavours to develop. Salad is best eaten within 2 days.

TIP To make ginger juice, finely grate peeled ginger (you'll need a heaping tbsp/15 mL plus for each tsp/5 mL of juice) and add to a fine mesh sieve. Using your fingers, squeeze ginger over a small bowl to collect the juice.
SHARE