Red Licorice Twists
Holiday 2014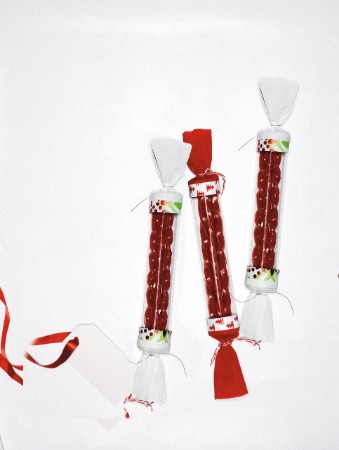 Red Licorice Twists
Holiday 2014
BY: Kristen Eppich
PREP: 1 hour

READY IN: 2 hours

Chewy cherry licorice is surprisingly easy to make at home. Cherry and anise oil flavourings can be found at specialty baking shops. Use a warm sharp knife to help slice the licorice into clean ropes, then twist away!
⅓ cup (80 mL) unsalted butter
¾ cup (175 mL) sugar
½ cup (125 mL) corn syrup
⅓ cup (80 mL) sweetened condensed milk
Pinch kosher salt
½ cup (125 mL) + 2 tbsp (30 mL) all-purpose flour
1½ tbsp (22 mL) cherry oil flavouring
1 tsp (5 mL) red food colouring
¼ cup (60 mL) coloured sprinkles (optional)
1 Butter a 9-inch (23-cm) square baking dish. Line with parchment paper, leaving a 2-inch (5‑cm) overhang for handles.

2 Combine butter, sugar, syrup, milk and salt in a heavy-bottom saucepan over medium heat. Cook until butter has melted and sugar is dissolved. Fit pot with a candy thermometer and continue to cook, stirring frequently until the mixture reaches 250° to 255°F (120° to 122°C), about 10 minutes. Remove from heat and stir in flour, flavoured oil and colouring. Pour into prepared pan and, working quickly, spread into corners. Cool until just warm, about 30 minutes.

3 Lift from pan onto a cutting board. Slice into ¼-inch (5-mm) ropes, and twist. Place on a cooling rack. Cut each twisted rope into desired lengths. Dip the end in water and then in sprinkles (optional). Store in an airtight container for up to 1 week.

TIP To make black licorice follow the above method with these adjustments: reduce the corn syrup to ⅓ cup (80 mL) and add 2 tbsp (30 mL) of blackstrap molasses. Use anise oil instead of cherry, and black food colouring instead of red.
SHARE