Poached Eggs with Herb-Infused Olive Oil
Printemps 2005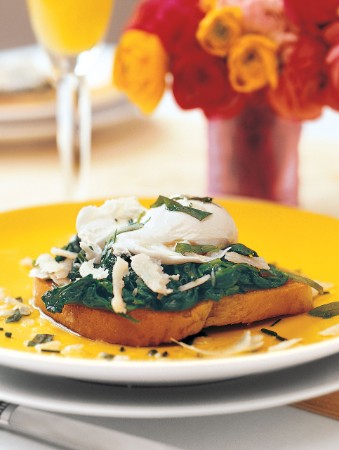 Poached Eggs with Herb-Infused Olive Oil
Printemps 2005
BY: Jennifer McLagan
This is much lighter version of a popular brunch dish. Chives and tarragon match well with eggs but you can use other herbs. Very fresh eggs are necessary for this recipe - if you are not sure they are fresh, add the vinegar to the poaching water.
1 bunch of spinach
4 very fresh eggs
3 tbsp (45 mL) vinegar per 4 cups (1 L), of water optional
¼ cup (50 mL) olive oil
1 tbsp (15 mL) chopped fresh chives
1 tbsp (15 mL) chopped fresh tarragon
Salt and freshly ground pepper
4 slices of toast
Shaved Parmesan cheese
1. Rinse the spinach well and remove any thick stems. Toss it into a very hot frying pan and stir until it wilts, then refresh it under cold running water. Squeeze the spinach to remove as much water as possible.

2. Bring 2-inches (5-cm) of water and the vinegar, if using, to a boil in deep frying pan. Once it boils, reduce the heat to a simmer and break in the eggs. Cover, then remove from the heat and leave for 3 to 4 minutes or until the whites are opaque. Remove the eggs using a slotted skimmer and place in a bowl of ice water to stop them cooking. Carefully remove the eggs from the water, drain on a towel. Trim the thin outer ring of excess white. (The recipe can be made ahead up to this point. Refrigerate the squeezed spinach and keep the poached eggs in a bowl of water, refrigerated for up to 24 hours.)

3. Reheat the spinach in the microwave or in a steamer. Heat the oil in a frying pan, then carefully add the trimmed eggs, sprinkle with herbs and season with salt and pepper. Heat them gently by spooning the hot oil over the eggs.

4. Place a piece of toast on a heated plate, top with ¼ of the spinach, then an egg. Spoon over some herbed oil and top with shaved Parmesan. Repeat with the remaining eggs.
SHARE