Mucho Melon Salad
Summer 2018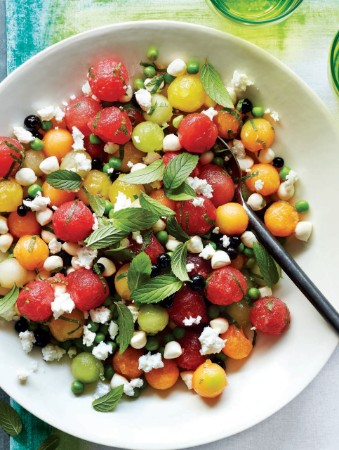 Mucho Melon Salad
Summer 2018
BY: Signe Langford
We think this all-round, multi-coloured salad is as cute as a button; but if you don't have a melon baller, don't fret, just go with cubes instead. The sweetness of the melon and blueberry is beautifully balanced by the freshness of mint, the saltiness of the ricotta salata, the creaminess of bocconcini, and the green sharpness of the peas—and it just might be the prettiest salad you make all summer! The market is full of interesting new melon varieties—canary yellow, Santa Claus, honey kiss—so have fun and try something new!
1 cup (250 mL) fresh peas, blanched and chilled
2 cups (500 mL) balled watermelon, seedless or seeds removed
2 cups (500 mL) balled cantaloupe, seeded
2 cups (500 mL) balled honeydew melon, seeded
3 tbsp (45 mL) freshly squeezed lemon juice (about 1 large lemon); divided
3 tbsp (45 mL) grape seed or other neutral tasting oil such as sunflower, canola or peanut
1 tbsp (15 mL) runny honey
¼ tsp (1 mL) fine sea salt
¼ tsp (1 mL) black pepper
1 cup (250 mL) fresh blueberries, washed
1 cup (250 mL) bocconcini pearls, drained
3 tbsp (45 mL) finely chopped or chiffonade fresh mint leaves, stems discarded
¼ cup (60 mL) shaved or crumbled ricotta salata or other salty, hard, aged cheese such as pecorino or Romano
1. Set a medium saucepan of water over high heat. When it's boiling, add the peas and cook for 30 seconds. Drain through a sieve in the sink, and run cold water over peas until they are cool to the touch, then set aside in the fridge to continue to drain and chill.

2. Add melon balls to a bowl and drizzle with 1 tbsp (15 mL) of the lemon juice, toss to coat, and set aside in the fridge.

3. Into a very large serving bowl add the oil, remaining lemon juice, honey, salt and pepper; whisk to combine.

4. To the serving bowl with the vinaigrette, add the melon balls, blueberries, bocconcini, mint and peas. Very gently toss to combine and coat with the vinaigrette. Shave the ricotta salata on top and serve immediately.

5. Garnish with more mint—tiny whole leaves are pretty—if desired.
Makes about 8 cups (2 L), serves 4 to 6
SHARE