Mixed Berry Cookie Crumble
Holiday 2004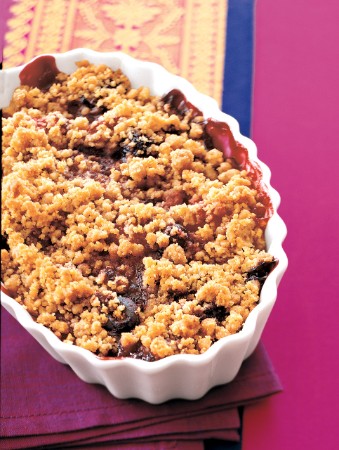 Mixed Berry Cookie Crumble
Holiday 2004
BY: Jennifer MacKenzie
A fruity dessert with a crisp gingery topping is a comforting end to a hectic day. Whether you choose the ginger or lemon snaps, make sure you use the thin, crispy type for the best texture. Frozen mixed berries are available in bags or tubs in most grocery stores or you can make a mixture of your favourite berries. With frozen fruit and all of the other ingredients ready in the pantry, this a great last-minute dessert. Toss it together and pop it in the oven before you cook the main course and it will bubbling and hot just in time for tea.
2 tbsp (25 mL) granulated sugar
2 tbsp (25 mL) cornstarch
¼ tsp (1 mL) ground ginger
Pinch ground cinnamon
3 cups (750 mL) frozen mixed berries

Cookie Crumble
¾ cup (175 mL) finely crushed thin ginger snaps or lemon snaps
2 tbsp (25 mL) all-purpose flour
2 tbsp (25 mL) butter, melted
1. Preheat oven to 350ºF (180ºC).

2. Stir together sugar, cornstarch, ginger and cinnamon in a bowl. Add frozen fruit and toss until fruit is coated. Spread into a shallow 4-cup (1-L) baking dish or four 1-cup (250-mL) ramekins or ovenproof bowls and place on a baking sheet to catch any drips.

3. For the cookie crumble, toss crushed ginger snaps and flour in a bowl. Drizzle with butter and toss until flour is moistened. Sprinkle evenly over fruit in baking dish. Bake for about 45 minutes or until fruit is bubbling around the edges and centre is hot.
SHARE