Lentil and Saskatoon Berry Salad
Summer 2014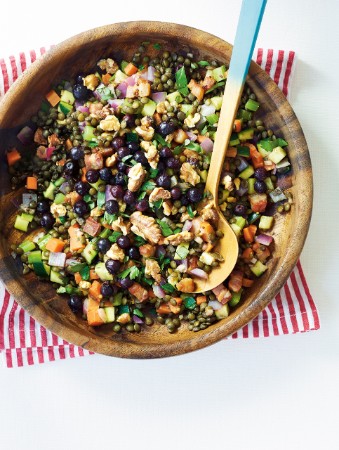 Lentil and Saskatoon Berry Salad
Summer 2014
BY: Lucy Waverman
Small with a greyish-dark green colour, lentilles du Puy are a favourite French lentil that comes originally from the Auvergne in France. Today, Saskatchewan and Manitoba also grow these lentils and, with our own home-developed varieties, Canada is one of the largest lentil producers in the world. Lentilles du Puy do not clump together, making them a perfect lentil for a salad. If they are unavailable, small black or caviar lentils are a good substitute.
SALAD
1 cup (250 mL) lentilles du Puy
2 cloves garlic, halved
Salt
1 carrot, diced, about 1 cup (250 mL)
1 small red onion, diced, about ¾ cup (175 mL)
1 zucchini, diced, about 1 cup (250 mL)
1 celery rib, diced, about ½ cup (125 mL)
2 tbsp (30 mL) olive oil
Freshly ground pepper

DRESSING
2 tbsp (30 mL) minced shallots
2 tbsp (30 mL) red wine vinegar
2 tbsp (30 mL) extra virgin olive oil
2 tsp (10 mL) grainy mustard
1 tsp (5 mL) honey
1 tsp (5 mL) grated lemon rind
Salt and freshly ground pepper

GARNISH
8 oz (250 g) cooked belly pork or other cooked pork, diced
2 tbsp (30 mL) chopped parsley
2 tbsp (30 mL) chopped basil
½ cup (125 mL) toasted walnuts
1 cup (250 mL) Saskatoon berries or blueberries, fresh or frozen
1 Place lentils and garlic in a pot with enough salted water to cover lentils by ½ inch (1 cm). Bring to a boil then reduce heat. Cover and simmer for 20 minutes or until al dente.

2 Add diced vegetables and return cover. Simmer for 10 more minutes or until lentils are tender and vegetables are cooked. If lentils become too dry, add a little extra water.

3 Drain lentils and vegetables and toss with olive oil. Spread on cookie sheet to cool. Season with salt and pepper.

4 Combine dressing ingredients in a bowl and set aside.

5 Heat a medium-size frying pan over medium-high heat. Add pork belly and cook, stirring until crisp and golden, about 5 minutes.

6 Stir pork into lentil mixture. Pile on a platter and spoon over vinaigrette. Garnish with herbs, toasted walnuts and berries.
SHARE