Gnarly Sesame Fingers
Autumn 2005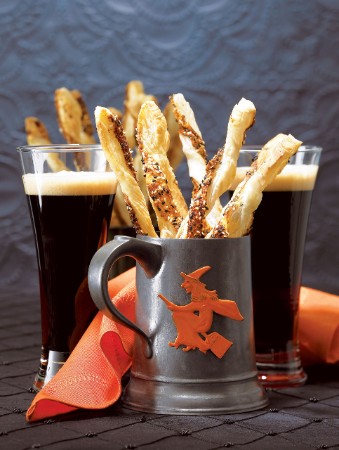 Gnarly Sesame Fingers
Autumn 2005
BY: Heather Trim
These spindly twists are perfect for nibbling while sipping some witch's brew. They can be made a couple of days in advance and stored in an airtight container.
Half of 397 g pkg puff pastry
Flour
2 tsp (10 mL) Dijon mustard
2 tbsp (25 mL) finely grated Parmesan cheese
1 tbsp (15 mL) black or white sesame or poppy seeds, preferably a combination
Pinch salt
¼ tsp (1 mL) chili powder


1. Thaw puff pastry according to package directions.

2. Preheat oven to 400ºF (200ºC).

3. Line 1 or 2 baking sheets with parchment paper. On a lightly floured surface, roll pastry into a rectangle measuring about 13 x 10-inches (32.5 x 25-cm). Thinly spread pastry with mustard (it will barely cover).

4. In a small bowl, stir Parmesan with seeds, salt and chili powder. Sprinkle over pastry and press in. Slice (a pizza cutter and ruler work well) into ½-inch (1-cm) strips. Starting from the middle of each strip, using both hands, twist each strip into a corkscrew shape. Place on baking sheet, spacing about 1-inch (2.5-cm) apart.

5. Bake in centre of preheated oven until golden and crisp, 10 to 13 minutes. Serve warm or at room temperature.
SHARE