Fin du Monde Caramel Sauce
Temps des Fêtes 2009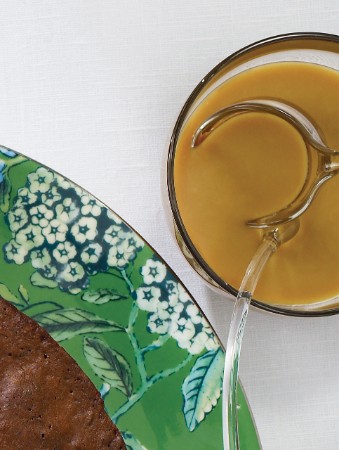 Fin du Monde Caramel Sauce
Temps des Fêtes 2009
BY: Tonia Wilson-Vuksanovic
Fin du Monde is a Belgian-style ale produced in Quebec. It has loads of malty caramel flavour and a spiciness that marries perfectly with the pudding's ginger and cloves. Any beer crafted in this style will work wonderfully for the sauce.
1 cup (250 mL) Fin du Monde beer, or other Belgian-style ale
½ cup (125 mL) dark brown sugar
¼ tsp (1 mL) salt
1 cup (250 mL) 35% cream
1. In a medium saucepan, reduce the beer by half over medium-high heat. Measure the reduced beer in a glass or metal measuring cup to ensure that it reduced to ½ cup (125 mL). Return to pan.

2. Add brown sugar, salt and cream. Simmer until reduced to a thickened sauce. The final quantity should be 1 cup (250 mL) caramel sauce. Let cool slightly and serve warm with Sticky Date Pudding.
SHARE