Black Walnut-Crusted Veal Chops with Wild Mushrooms & Marsala Cream
Autumn 2017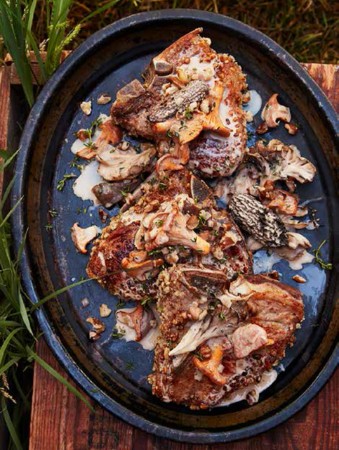 Black Walnut-Crusted Veal Chops with Wild Mushrooms & Marsala Cream
Autumn 2017
BY: Signe Langford
This rich dish is a classic with a woodsy Canadian twist. We've used veal here, but a beautiful Ontario heritage pork chop, freerun-chicken breast or rack of Canadian venison would work equally well. As for the mushrooms, any combination of wild or cultivated varieties will do, but morels—if you can find them—are exceptionally delicious with black walnuts and cream.
4 veal chops, each 4 oz (125 g)
¾ cup (175 mL) black walnut pieces, divided; plus extra for garnishing, if desired
1 tsp (5 mL) sea salt, divided
1 tsp (5 mL) white or black pepper, divided
3 tbsp (45 mL) vegetable oil, divided
2 tbsp (30 mL) butter
2 finely chopped shallots, about
¼ cup (60 mL)
8 cups (2 L) fresh mixed mushrooms, coarsely chopped (see TIP)
8 morels, fresh or dried (optional)
½ cup (125 mL) Marsala
½ cup (125 mL) mushroom, veal, beef or chicken stock
1 tbsp (15 mL) finely chopped fresh thyme, or 1 tsp (5 mL) dried; reserve some whole sprigs for garnishing if desired
½ cup (125 mL) 35% cream
1 Preheat oven to 475°F (240°C).
2 Set chops out on the counter and allow to come up to room temperature, about 1 hour.
3 In the bowl of a food processor, pulse ½ cup (125 mL) of the walnuts with ½ tsp (2 mL) salt and ½ tsp (2 mL) pepper until it's a fairly fine crumb with a few pea-sized bits too. Transfer to a dinner plate.
4 Trim any excess fat from the chops, then press and roll the edges into the plate of nuts, evenly coating just the edges of the chops.
5 In a large skillet over medium-high heat, add 2 tbsp (30 mL) of the oil. When hot, add the chops and cook for 3 minutes per side. Transfer to the oven and roast for 6 to 10 minutes (to your taste) or until a thermometer inserted into the centre of a chop reads from 140° to 160°F (60° to 70°C), and the juices run clear. Remove chops from oven and allow to rest in the pan until ready to serve.
6 Make the sauce while the chops are roasting. Place a skillet over medium heat and add remaining 1 tbsp (15 mL) oil and the butter. When melted, add remaining ¼ cup (60 mL) walnut pieces, remaining ½ tsp (2 mL) salt, remaining ½ tsp (2 mL) pepper, shallots, mixed mushrooms and morels (if using); stir and cook for about 1 minute.
7 Add the Marsala and stock; stir, scraping the tasty bits off the bottom of the pan. Cook for about 2 minutes.
8 Add the thyme; cook for another minute or so, stirring often. Add the cream; stir to incorporate, reduce and thicken slightly, about 2 minutes.
9 To serve family style, arrange chops on a platter, or place 1 per plate and drape with the mushroom Marsala sauce. Garnish with more thyme and a sprinkling of walnuts, if desired.
TIP If using shiitake mushrooms, pluck off the tough stems. They can be saved for making stock. If using oyster mushrooms, they look great torn as opposed to chopped, but it's more work. If using dried mushrooms, reserve the soaking water for this or another dish, but it will have to be strained through a coffee filter, as the mushrooms tend to release fine grit
Serves 4; makes 2 cups (500 mL) mushroom Marsala sauce
SHARE