Betel Leaf & Pork Satay Bundles
Holiday 2017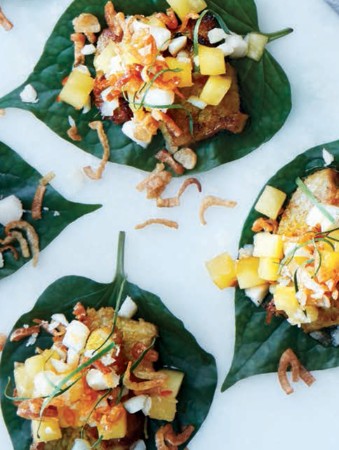 Betel Leaf & Pork Satay Bundles
Holiday 2017
BY: Christopher St. Onge
The long list of ingredients here are all usually available from a well-stocked Asian grocer, and that extra mile is oh-so-worth-it. Betel leaves are a common Southeast Asian ingredient eaten both raw and cooked. The lime leaves should be nearby in the refrigerated section, while prepared fried shallots (sometimes labelled "fried red onion") and tamarind paste can be found on the shelves. Arranging your assembly station ahead of time will leave only the pork to finish. A quick fry, and you're done.
SATAY
⅓ cup (80 mL) coconut milk
1 stalk lemon grass, roughly chopped
3 to 4 tbsp (45 to 60 mL) peanut oil, divided
1 tbsp (15 mL) grated ginger
2 tsp (10 mL) packed dark brown sugar
1 tsp (5 mL) ground turmeric
¼ tsp (1 mL) ground cumin
Pinch white pepper
1 tsp (5 mL) salt
1 lb (500 g) pork tenderloin

TO ASSEMBLE
2 tbsp (30 mL) packed brown sugar
1 tbsp (15 mL) fish sauce
½ tsp (2 mL) tamarind paste
1 cup (250 mL) finely diced pineapple
1 small shallot, finely diced
1 Thai chili, finely chopped
6 makrut lime leaves
½ cup (125 mL) prepared fried shallots
½ cup (125 mL) chopped macadamia nuts
24 betel leaves, trimmed of all but ½ inch (1 cm) stem
1. For the satay, combine the coconut milk, lemon grass, 2 tbsp (30 mL) peanut oil and ginger in a blender; process until smooth, scraping down sides as necessary. Add sugar, turmeric, cumin, pepper and salt; pulse to combine and set aside. (Marinade may be made up to 5 days in advance and refrigerated.)

2. Cut tenderloin in half along its length; cut crosswise into ¼-inch-thick (5-mm) slices. Place in a non-reactive bowl; pour coconut milk mixture over. Gently toss to coat and refrigerate, covered, for up to 3 hours.

3. Meanwhile, prepare your assembly station: in a small non-reactive bowl combine sugar, fish sauce and tamarind paste; stir until sugar is dissolved. Add pineapple, shallot and chili. Stir to combine (pineapple mixture may be dressed with the fish sauce mixture up to an hour in advance).

4. Using a sharp knife, remove tough centre rib from the lime leaves and finely sliver; arrange in a small bowl beside the pineapple relish, fried shallots and macadamia.

5. When ready to serve, arrange betel leaves on a large platter or 2, glossy-side up, in a single layer. Heat 1 tbsp (15 mL) of the remaining oil in a large nonstick frying pan over medium-high. Using a slotted spoon, remove pork from marinade and fry in a single layer (do not crowd pan), undisturbed for 2 minutes per side or until golden. Repeat with remaining pork if necessary, refreshing oil if needed.

6. Arrange a couple of pieces of warm pork in the centre of each betel leaf, followed by a generous tsp (5 mL plus) of the pineapple relish, a pinch of macadamia and shallots, and a few slivers of lime leaf each. Serve immediately.
SHARE