Asian Glazed Quails
Automne 2005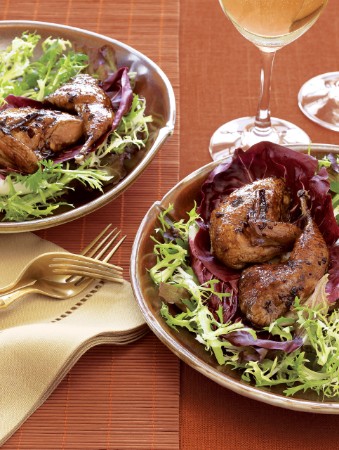 Asian Glazed Quails
Automne 2005
BY: Jennifer McLagan
Quails with this spicy sweet soy sauce glaze served on salad make a great appetizer. Although the backbone is removed you will need to use your fingers to get at the best parts. If you don't want to cut up the quails, it is very easy, ask your butch to do it for you. If no quail is available you can use two poussins (baby chicken) or squab and bake them for 30 minutes before brushing with the glaze a second time.
½ cup (125 mL) soy sauce
½ cup (125 mL) honey
2 cloves garlic, peeled and finely chopped
2 tsp (10 mL) finely chopped ginger
½ tsp (2 mL) 5-spice powder
4 quails, about 6oz (175 g) each
Salt and freshly ground pepper


1. In a small saucepan over medium heat bring the soy, honey, garlic, ginger and 5-spice powder to a boil. Lower the heat slightly and boil gently until syrupy about 5 minutes. Set aside to cool.

2. Preheat the oven to 400ºF (200ºC).

3. Cut each quail in half and remove the backbone. Cut each half in 2 pieces, pat dry and season with salt and pepper.

4. Line a baking sheet with aluminum foil and top with an oiled metal rack. Place the quail, skin-side up, on the rack and brush with the glaze.

5. Bake the quail for 10 minutes, then brush with the glaze again and bake another 5 minutes. Brush the quail a final time with the glaze and cook another 5 minutes until brown and cooked.
SHARE