Warm Chocolate Ricotta Tarts with Bittersweet Chocolate Sauce
Holiday 2006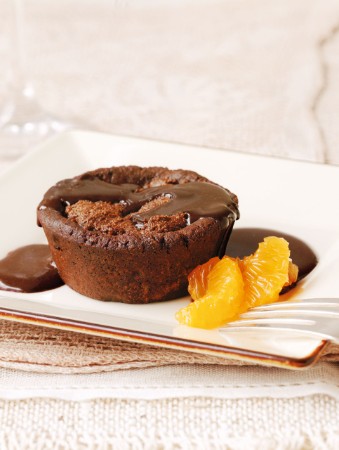 Warm Chocolate Ricotta Tarts with Bittersweet Chocolate Sauce
Holiday 2006
BY: Jennifer MacKenzie
Sweet and tangy ricotta and dark chocolate make a decadent cheesecake type of filling in a crispy cookie tart shell in this easy-to-make but impressive dessert. The pepper may seem like an odd ingredient, however once you try it you'll be surprised how well it works. The Bittersweet Chocolate Sauce isn't imperative but makes an attractive and tasty addition and prevents the tarts from sliding around the plate. The tarts are best if served when freshly baked but can be baked, cooled, covered and refrigerated for up to one day. To reheat, place on a baking sheet and bake in a 350ºF (180ºC) oven for 5 to 10 minutes or until warmed through.
Tart Shells
1 cup (250 mL) all-purpose flour
1/3  cup (75 mL) unsweetened cocoa powder
¼ cup (50 mL) granulated sugar
½ cup (125 mL) cold butter, cubed
1 egg

Filling
4 oz (125 g) bittersweet chocolate, chopped
¾ cup (175 mL) extra smooth ricotta cheese
1 egg yolk
3 tbsp (45 mL) whipping cream
1 tbsp (15 mL) granulated sugar
Pinch freshly ground black pepper
1.  For tart shells, preheat oven to 350ºF (180ºC).
 
2.  Whisk together flour and cocoa powder in a bowl. Beat sugar and butter with an electric mixer in a separate bowl. Beat in egg. Stir in flour mixture until a soft dough forms. Divide dough into 12 balls, each about the size of a golf ball. If dough is very soft, refrigerate for 10 minutes or until chilled. Press 1 ball evenly into bottom and up sides to top edge into each cup of 2½-inch (6-cm) muffin tins. Prick all over with a fork. Repeat with remaining dough. Refrigerate for 15 minutes or until chilled. Bake for about 10 minutes or until firm. Let cool in pan on a rack. (Cover and store at room temperature for up to 2 days.)

3.  To make filling, melt chocolate in a heatproof bowl set over a saucepan of hot, not boiling water. Stir until smooth and remove from heat. Let cool almost to room temperature. Whisk ricotta with egg yolk, cream, sugar and pepper. Whisk in melted chocolate until blended.

4.  If necessary, preheat oven to 350ºF (180ºC.)

5.  Spoon filling evenly into tart shells. Bake filled tarts for 15 to 20 minutes or until centre is puffed but still moist when a tester is inserted in the centre. Serve immediately, garnished with Bittersweet Chocolate Sauce (recipe follows).

Bittersweet Chocolate Sauce  

Perfect for drizzling on the plate as a garnish for Warm Chocolate Ricotta Tarts or any festive dessert. Store it in the refrigerator and
warm in a saucepan or the microwave before serving.

1/3 cup (75 mL) granulated sugar
1/3 cup (75 mL) unsweetened cocoa powder
¾ cup (175 mL) whipping cream
2 oz (60 g) bittersweet chocolate, chopped
1 tsp (5 mL) vanilla or 1 tbsp (15 mL) chocolate liqueur
1.  Whisk sugar with cocoa in a saucepan. Gradually stir in cream until blended. Bring just to a boil over medium heat, stirring often. Reduce heat to medium-low and cook, stirring, for about 5 minutes or until slightly thickened.

2.  Remove from heat and stir in chocolate until melted. Stir in vanilla. Let cool slightly.  (Transfer to a jar, cover and refrigerate for up to 3 weeks). Warm slightly before serving.
Makes about 1¼ cups (300 mL)
SHARE