Squash Gingerbread with Scotch Marmalade Drizzle
Autumn 2013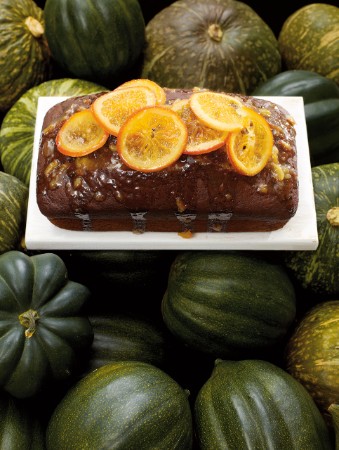 Squash Gingerbread with Scotch Marmalade Drizzle
Autumn 2013
BY: Marilyn Bentz-Crowley
This is a less-sweet dessert that is especially good as part of a brunch or at teatime. The squash ensures that it remains moist. Choose darker molasses such as Cooking or Blackstrap molasses for a rich dark colour and stronger taste. Or if you prefer a less robust taste, use Fancy molasses.
GINGERBREAD
½ cup (125 mL) molasses
¾ cup (175 mL) thick puréed cooked squash
½ cup (125 mL) milk
1 egg
2 to 3 tbsp (30 to 45 mL) finely grated fresh ginger
2¼ cups (560 mL) all-purpose flour
¼ cup (60 mL) granulated sugar
1 tsp (5 mL) baking soda
¼ tsp (1 mL) ground mace or nutmeg
¼ tsp (1 mL) salt
¼ cup (60 mL) butter, melted

DRIZZLE
¼ cup (60 mL) orange marmalade, preferably extra-fruit
1 tbsp (15 mL) Scotch whisky
1 tsp (5 mL) water
2 tsp (10 mL) cornstarch
1 Preheat oven to 350°F (180°C).

2 Line a 9 x 5-inch (23 x 13-cm) loaf pan with foil, leaving some overhang to form a grip. Coat with nonstick spray or lightly butter.

3 To make cake, whisk molasses with squash, milk, egg and ginger until blended. In a mixing bowl, thoroughly stir flour with sugar, baking soda, mace and salt. Add molasses mixture and melted butter. Stir until almost smooth and batter is thick. Turn into pan; level top.

4 Immediately bake in centre of preheated oven for 55 to 60 minutes or until edges of loaf pull away from the sides and a cake tester inserted into the centre comes out clean. Remove from oven; cool 5 minutes in pan on a rack.

5 Grasp foil and lift loaf from pan. Peel off foil; return to rack. Cool completely.

6 When loaf has cooled, stir marmalade with whisky and water in a 1 cup (250 mL) heatproof measure or bowl of similar capacity. Sift cornstarch overtop marmalade combination to remove lumps; stir.

7 Microwave, uncovered for 15 seconds. Repeat twice more. Finally microwave for a final 15 seconds. Stir to form a thick, somewhat clear drizzle. (Total microwaving time is 1 minute completed in 15 second intervals with stirring in between.)

8 Immediately spoon hot drizzle overtop loaf; let sit uncovered at room temperature for at least an hour to set. Gingerbread keeps well in a deep storage tin or container for a day or two. Avoid allowing storage container or wrapping to come into contact with drizzled top. See recipe below for optional candied orange slice garnish.

CANDIED ORANGE SLICES

Thinly slice a large orange slightly less than ¼ inch (1 cm) thick. In a very wide pot or pan such as a pasta pot, sprinkle 1 cup (250 mL) granulated sugar; pour in 1 cup (250 mL) water. Overlapping as needed, lay slices as flat as possible in bottom of pot. Bring just to a boil over high heat; reduce heat to medium-low. Barely simmer, uncovered, for 30 minutes. During this time swirl slices in pan a couple of times, but do not stir. After swirling, use a slotted spoon to very gently rearrange so bottom of pot is covered. Then keep simmering for another 10 minutes, watching carefully so syrup does not become too thick and burn. Remove pan from heat; let slices cool in syrup. Then gently remove with a slotted spoon to a cooling rack to drain. Store flat between 2 sheets of waxed paper at room temperature until needed to garnish gingerbread. Use syrup to flavour club soda or a cup of hot tea.
SHARE