Smoked Cheddar, Caramelized Onion & Apple Grilled Cheese
Autumn 2009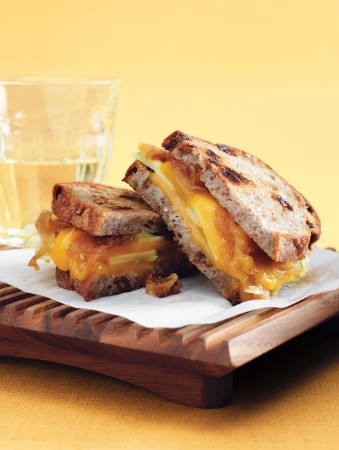 Smoked Cheddar, Caramelized Onion & Apple Grilled Cheese
Autumn 2009
BY: Heather Trim
If you've never tried a smoked cheese, one to check out is Balderson's Double Smoked Cheddar—a 2009 Canadian Cheese Grand Prix finalist (where the tastiest of tastiest cow's milk cheeses compete). The smoky flavour is perfect for topping burgers, filling omelettes or snacking on. Available at cheese stores and supermarkets.
2 tbsp (25 mL) butter
1 small sweet onion, thinly sliced
¼ tsp (1 mL) salt
Pinches of granulated sugar
4 to 6 slices walnut or raisin walnut bread
4 oz (125 g) Ontario smoked or regular cheddar, thinly sliced
½ tart apple, such as Spy or Granny Smith, thinly sliced
1. In a large frying pan, melt 4 tsp (20 mL) butter over medium-high heat. Once it starts to sizzle, add onion, salt and sugar. Stir just until onion starts to soften, a couple of minutes. Reduce heat to low and stir frequently until a deep golden colour, about 10 minutes.

2. Spread remaining butter over 1 side of each slice of bread (walnut bread tends to be small so you may have enough for 3 sandwiches). Place half the cheddar on 2 or 3 slices. Top with onions (you will have leftover) then apple. Finish with remaining cheddar and bread,butter-side out.

3. Heat a large frying pan over medium heat. Add sandwiches to pan. Cook until cheese is melted and bread slices are golden, 3 to 4 minutes a side. Press with spatula to help sandwiches stick together better.
SHARE