Savoury Tomato & Onion Crumble with Ontario Hazelnuts, Pine Nuts & Buttery Panko Crust
Autumn 2017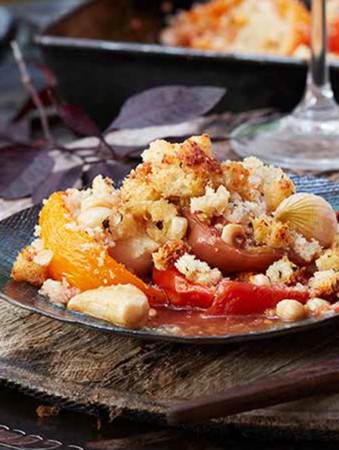 Savoury Tomato & Onion Crumble with Ontario Hazelnuts, Pine Nuts & Buttery Panko Crust
Autumn 2017
BY: Signe Langford
A crumble is something more often thought of as sweet, made with fruit. But try local tomatoes—they're actually fruit anyway!—and wait until you taste this surprising combination of tangy, savoury, sweet and toasty nutty flavours. We like this recipe with Ontario pine nuts too, but they can be tricky to find, so the Mediterranean kind will work fine. Remember, the juicier the tomatoes, the longer they will need to roast; Roma or plum tomatoes are the least juicy. For a more elegant presentation, make in six individual ramekins.
2 tbsp (30 mL) extra virgin olive oil, plus a drizzle more for oiling the baking sheet
10 medium-size sweet, local tomatoes, hulled and halved
10 pearl onions, peeled
10 whole cloves garlic, peeled
½ tsp (2 mL) sea salt
½ tsp (2 mL) black or white pepper
CRUMBLE
1 cup (250 mL) hazelnuts, crumbled
¼ cup (60 mL) pine nuts
2 to 3 slices fluffy white bread; crusts removed, coarsely crumbled, about 1 cup (250 mL)
1 cup (250 mL) panko bread crumbs (or other unseasoned bread crumbs)
1½ cups (375 mL) grated hard cheese such as pecorino, Romano or Parmesan
½ tsp (2 mL) sea salt
1 tsp (5 mL) black or white pepper
1 tbsp (15 mL) finely chopped fresh thyme, or 1 tsp (5 mL) dried thyme
½ cup (125 mL) melted butter
1 tbsp (15 mL) butter for greasing the casserole dish
1 Preheat oven to 375°F (190°C).
2 Lightly spray or oil a baking sheet. Arrange tomato halves cut-side up; place onions and garlic in the gaps between the tomato halves.
3 Drizzle with 2 tbsp (30 mL) olive oil, season with salt and pepper and pop into the oven for about 60 minutes, or until the tomatoes have let go of some water, have shrivelled a bit and everything is beginning to brown. Don't allow the garlic to turn dark or it will become bitter.
4 While tomatoes are roasting, make the crumble. In the bowl of a food processor, pulse the hazelnuts until they are a mix of fine and coarse crumbs.
5 Into a large bowl, add the crumbled nuts, pine nuts, both kinds of bread crumbs, grated cheese, salt, pepper and thyme; toss to combine. Add the melted butter as evenly as possible, and stir to combine well.
6 Grease an 8 x 10-inch (20 x 25-cm) casserole or other ovenproof dish with 1 tbsp (15 mL) butter; evenly distribute the roasted tomatoes, onions and garlic in the dish.
7 Tumble the crumble over the tomatoes; gently spread to an even thickness, compacting it just the tiniest bit with the back of a spoon or spatula. Bake for about 25 minutes or until the top is golden and crunchy.
SHARE