Roast Chicken with Gravy
Autumn 2005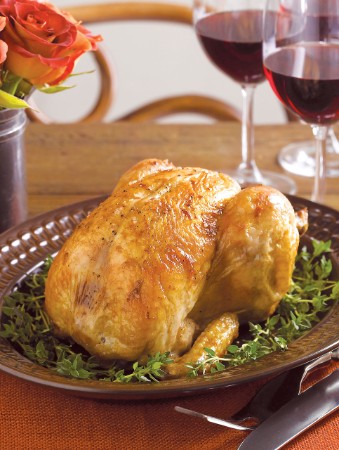 Roast Chicken with Gravy
Autumn 2005
BY: Lucy Waverman
I learned how to roast chicken the first day I attended the Cordon Bleu. This method has been my standby ever since. Serve with mashed potatoes, roasted cherry tomatoes and sautéed baby bok choy.
4 lb (2 kg) chicken
2 tbsp (25 mL) butter at room temperature
2 tsp (10 mL) kosher salt
Freshly ground pepper to taste
1 tbsp (15 mL) all-purpose flour
1½ cups (375 mL) chicken stock
1 tsp (5 mL) balsamic vinegar
1. Preheat oven to 400ºF (200ºC).

2. Twist wing tips under wings. Spread butter over chicken skin and pop a little inside cavity. Season with salt and pepper. Tie legs together with string to keep the shape compact.

3. Place chicken breast-side up on a rack. Roast for 15 minutes to the pound and 15 minutes added on the end, basting occasionally. Let chicken rest on a carving board for 10 minutes.

4. Discard fat from roasting pan leaving 2 tbsp (25 mL). On medium heat, reheat fat. Sprinkle in flour. Stir together until flour turns golden brown, about 1 minute.

5. Pour in stock. Bring to a boil, scraping up the bits from bottom of roasting pan. Add any accumulated juices from chicken and balsamic vinegar. Season with salt and pepper to taste.

6. Carve chicken and serve drizzled with sauce.
SHARE