Raspberry Parfait with Oatmeal and Scotch
Autumn 2003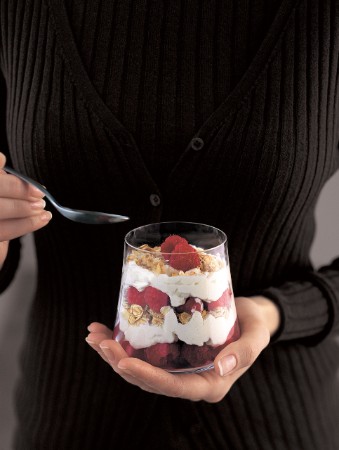 Raspberry Parfait with Oatmeal and Scotch
Autumn 2003
BY: Lucy Waverman
This Scottish dessert is very pretty and a little unusual. Make in parfait glasses and top with whipped cream and raspberries. Easy to make, it has a rich, complex taste.
2 tsp (10 mL) quick cooking oatmeal
1 cup (250 mL) whipping cream
½ cup (125 mL) soft cream cheese
2 tbsp (25 mL) honey
1 tbsp (15 mL) granulated sugar
1/3 cup (75 mL) single malt Scotch
2 cups (500 mL) raspberries
1. Toast oatmeal in skillet on low heat for 6 to 7 minutes, until it turns a toasty brown. Remove from skillet and cool. Whip cream until soft peaks form.

2. Mix cheese with honey, sugar and Scotch until smooth. Taste and add more sugar if desired. Fold in whipped cream.

3. Place 2 tsp (25 mL) raspberries in the bottom of each glass. Top with ¼ cup (50 mL) cream mixture and sprinkle over ¼ tsp (1 mL) toasted oats. Repeat, layering as desired.
SHARE