Prosciutto-Wrapped Halibut with Sage Butter
Autumn 2006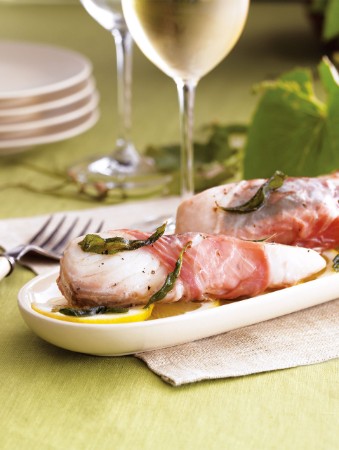 Prosciutto-Wrapped Halibut with Sage Butter
Autumn 2006
BY: Jennifer McLagan
Halibut is our preference for this recipe but any firm-flesh white fish will work well.
6 firm white fish fillets, about 6 oz (175 g) each
Salt and freshly ground pepper
36 fresh sage leaves
6 large prosciutto slices
2 lemons
6 tbsp (90 mL) unsalted butter
4 tsp (20 mL) fresh lemon juice
1. Preheat the oven to 400ºF (200ºC).

2. Season the fish fillets with salt and pepper. Place 2 sage leaves on top of each fillet and then wrap each fillet with a slice of proscuitto.

3. Cut twelve ¼-inch (5-mm) slices from the middle of the lemons, keeping the ends to juice.

4. Place the lemon slices in slightly overlapping pairs on a baking sheet with a rim. Place a piece of wrapped fish on top of each pair of lemons. Bake the fish for 15 to 20 minutes or until cooked (it should flake and be opaque in the thickest part).

5. While the fish is cooking, melt the butter in a frying pan over medium-low heat. Add the remaining sage leaves and cook, turning once, until the leaves are crisp and the butter begins to brown, about 7 minutes. Add the salt and the lemon juice.

6. To serve, place the cooked fish with the lemon slices on dinner plates. Pour any juices from the fish into the butter sauce. Reheat the sauce if necessary and pour over the fish.
SHARE