Prosciutto & Fig-Topped Cecina
Winter 2012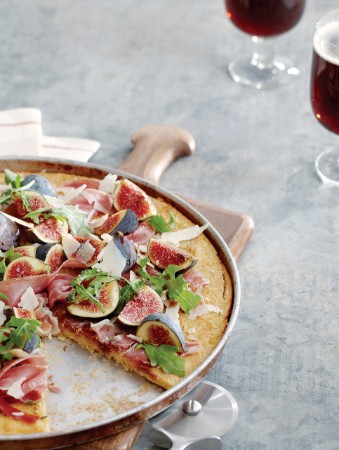 Prosciutto & Fig-Topped Cecina
Winter 2012
BY: Nicole Young
Cecina is a Tuscan unleavened flatbread made with chickpea flour or ceci instead of wheat flour. It is usually served simply with coarse salt and rosemary, but this recipe turns it into a "pizza" by topping it with fresh ingredients and serving it with a drizzle of aged balsamic vinegar. Bonus: it's high in protein and a great gluten-free alternative.
2 cups (500 mL) chickpea flour
2 cups (500 mL) cold water
5 tbsp (75 mL) olive oil, divided
2 tbsp (30 mL) fresh chopped rosemary
2 tsp (10 mL) kosher salt
½ tsp (2 mL) freshly cracked pepper
8 slices prosciutto
8 ripe figs, quartered
½ cup (125 mL) fresh shaved Parmesan
1 cup (250 mL) baby arugula
2 tbsp (30 mL) aged balsamic vinegar
1 In a large bowl, mix together chickpea flour and water until smooth. Add 2 tbsp (30 mL) of the olive oil, rosemary and salt and mix thoroughly to combine. Cover mixture and let rest for at least 1 hour and up to 4 hours.

2 Preheat the oven to 450°F (230°C).

3 Spread the remaining olive oil onto a 14-inch (35-cm) pizza pan and pour the batter into the centre of the pan (the oil will form a ring around it). Sprinkle with freshly cracked pepper and carefully transfer to the middle of the preheated oven, baking until golden brown, about 35 minutes. Let sit for 10 minutes.

4 Top with prosciutto, figs, shaved Parmesan and arugula. Drizzle with a little aged balsamic vinegar, and serve in wedges.

SHARE