Pear, Port and Potato Soup with Stilton
Holiday 2000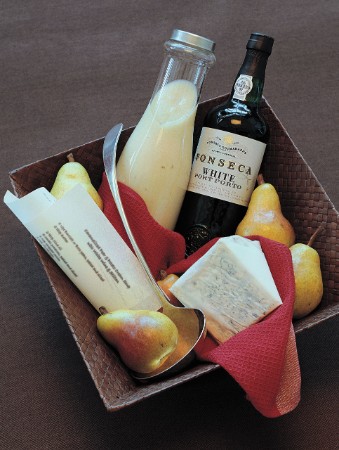 Pear, Port and Potato Soup with Stilton
Holiday 2000
BY: Lucy Waverman
A sweet, elegant purée further enhanced by a Stilton topping that contrasts with the sweetness. Use other blue cheeses such as Roquefort or Gorgonzola if preferred. Present your gift in an attractive container alongside a bottle of white Port.
2 tbsp (25 mL) butter
3 Bosc or Bartlett pears, peeled, cored and chopped
½ cup (125 mL) white Port
6 cups (1.5 L) chicken or vegetable stock
1 cup (250 mL) chopped onion
3 leeks, white part only, cleaned and chopped
¼ cup (50 mL) chopped celery
2 cups (500 mL) peeled and chopped Yukon Gold potatoes
¼ cup (50 mL) whipping cream
Salt and freshly ground pepper
4 oz (125 g) Stilton cheese, crumbled
1. Melt butter in a skillet over medium heat. When butter sizzles add pears and cook for 7 to 10 minutes or until tender and browned. Add Port and bring to boil. Reserve Port and pears.

2. Add stock to large pot. Add onion, leeks, celery and potatoes. Bring to boil over medium heat. Reduce heat to low, cover and simmer for 15 minutes or until all vegetables are tender. Add pears and Port and cook together 5 more minutes.

3. Purée in food processor or blender until smooth. Return to pot, add cream, season with salt and pepper and simmer together for 5 minutes to blend flavours.

4. Serve topped with cheese.
SHARE