Peameal Bacon, Sauerkraut & Egg
Winter 2015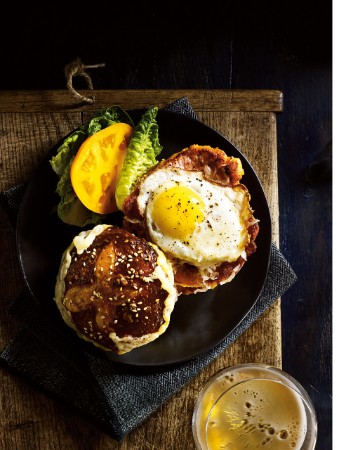 Peameal Bacon, Sauerkraut & Egg
Winter 2015
BY: Tonia Wilson-Vuksanovic
Peameal bacon is a truly Canadian product whose moniker refers to the coating on the outside of the cured pork loin. It was originally coated in dried yellow peas that were ground into meal, hence the name "peameal." Nowadays, however, cornmeal is used in its place.
3 tbsp (45 mL) butter
8 slices peameal bacon, cut ½ inch (1 cm) thick
4 good-quality buns, calabrese or kaiser-style
¼ cup (60 mL) mayonnaise
4 slices Swiss cheese
4 large eggs
1½ cups (375 mL) German-style white wine sauerkraut
Tomato slices and green leaf lettuce to garnish
1 In a large nonstick skillet, heat 1 tbsp (15 mL) butter over medium to melt. Add 4 slices of bacon and cook until golden, about 3 minutes on each side. Repeat with remaining bacon and an additional 1 tbsp (15 mL) butter until all slices are golden. Set bacon aside and keep warm. Clean pan for eggs.

2 Heat broiler to high.

3 Halve buns and divide mayonnaise between the 4 top halves. Top each with a slice of cheese and carefully broil to melt cheese.

4 Add last 1 tbsp (15 mL) butter to pan and carefully break 4 eggs in skillet. Let cook over medium heat until whites are set, about 2 minutes.

5 To assemble sandwich, place 2 pieces bacon on bottom halves, top with sauerkraut, cooked egg and lettuce and tomato.
SHARE