Orange Pumpkin Bread with Spiced Sugar Pumpkin Seed Topping
Autumn 2001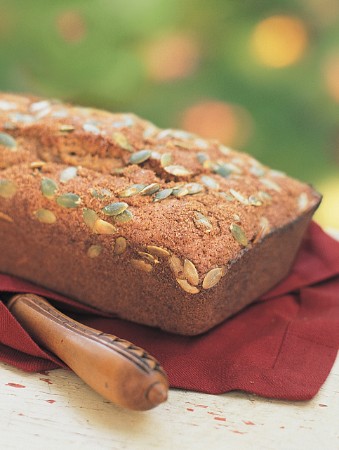 Orange Pumpkin Bread with Spiced Sugar Pumpkin Seed Topping
Autumn 2001
BY: Johanna Burkhard
It is hard to resist a slice of this spice-scented loaf that has all the flavours of pumpkin pie but is so much easier to bake. Use nutty roasted pumpkin seeds that resemble round pine nuts. Look for them in the bulk food section of supermarkets or health food stores. If unavailable, flat pumpkin seeds can also be used.
1 cup (250 mL) all-purpose flour
¾ cup (175 mL) whole wheat flour (all-purpose can be substituted)
2 tsp (10 mL) baking powder
½ tsp (2 mL) baking soda
½ tsp (2 mL) salt
1 ½ tsp (7 mL) cinnamon
½ tsp ( 2 mL) freshly ground nutmeg
¼ tsp (1 mL) ground cloves or allspice
1 ¼ cups (300 mL) brown sugar
2 eggs
1 cup (250 mL) canned pumpkin
1/3 cup (75 mL) vegetable oil
¼ cup (50 mL) orange juice
2 tsp (10 mL) grated orange zest
3 to 4 tbsp (45 to 60 mL) roasted pumpkin seeds
1. Preheat oven to 350°F (180°C).

2. Place flours, baking powder, baking soda and salt in a bowl and stir until well mixed.

3. Combine cinnamon, nutmeg and cloves in a bowl. Transfer 1 tsp (5 mL) of the spices to another bowl and add 2 tbsp (25 mL) brown sugar. Set aside for the topping.

4. Place remaining spices and brown sugar in a bowl; add eggs and beat until smooth. Stir in canned pumpkin, oil, orange juice and orange zest. Stir flour mixture into pumpkin mixture until just combined.

5. Spoon batter into a 9 x 5-inch (2-L) oiled loaf pan. Sprinkle top with pumpkin seeds, then with reserved spiced sugar mixture. Bake on middle rack of oven for 50 to 55 minutes or until a toothpick inserted in centre comes out clean. Let pan cool on rack for 15 minutes; turn loaf out and let cool completely.
SHARE