Moroccan Turkey Breast with Charmoula Sauce
Holiday 2008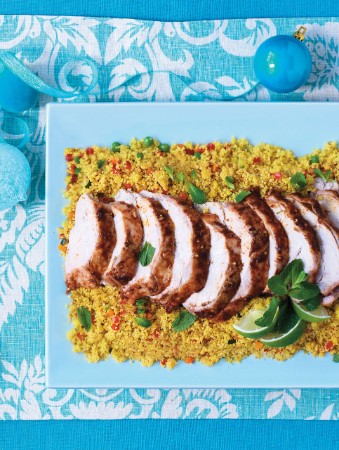 Moroccan Turkey Breast with Charmoula Sauce
Holiday 2008
BY: Lucy Waverman
The problem with timing for turkey breasts is that they come in all different sizes although the weight may be the same. Some are small and thick, others thinner and long. An instant-read thermometer is a good tool although it tends to give higher readings if not placed in exactly the thickest part of the breast. This Moroccan take has a traditional sauce called charmoula, which gives a gorgeous look as well as taste to the dish.
Moroccan Butter
¼ cup (50 mL) softened butter
2 tsp (10 mL) ground ginger
2 tsp (10 mL) ground cumin
1 tsp (5 mL) paprika
½ tsp (2 mL) cinnamon
Pinch saffron
½ tsp (2 mL) red pepper flakes
1 boned turkey breast, 4 lb (2 kg), skin on
Salt and freshly ground pepper to taste

Charmoula Sauce
¼ cup (50 mL) chopped parsley
¼ cup (50 mL) chopped coriander
1 tbsp (15 mL) chopped garlic
¼ cup (50 mL) lemon juice
¼ cup (50 mL) olive oil
1 tsp (5 mL) paprika
1 tsp (5 mL) ground cumin
1. Combine butter, ginger, cumin, paprika, cinnamon, saffron and red pepper flakes. Spread under skin of breast and all over the skin. Season with salt.

2. Preheat oven to 400ºF (200ºC).

3. Place breast on a rack over a baking dish and roast for 1 hour 15 minutes or until an instant read thermometer reads 165ºF (73ºC).

4. Remove breast from pan and let sit for 10 minutes before slicing.

5. Combine parsley, coriander, garlic, lemon juice, olive oil, paprika and cumin in food processor until puréed. Season with salt and pepper.

6. Slice turkey and serve over couscous with Seven Vegetables (recipe follows).

Couscous with Seven Vegetables

It is good luck to have seven vegetables in any Moroccan dish.

2½ cups (625 mL) chicken stock
½ tsp (2 mL) ground cumin
¼ tsp (1 mL) paprika
¼ tsp (1 mL) ground black pepper
¼ tsp (1 mL) cinnamon
½ tsp (2 mL) turmeric
½ cup (125 mL) chopped red onion
¼ cup (50 mL) diced carrots
½ cup (125 mL) diced white turnip
½ cup (125 mL) diced red pepper
½ cup (125 mL) diced zucchini
2 cups (500 mL) couscous
½ cup (125 mL) peas, fresh or frozen
Salt to taste
3 tbsp (45 mL) chopped fresh coriander
1. Heat chicken stock in a pot over medium heat. Add cumin, paprika, black pepper, cinnamon and turmeric and simmer together for 2 minutes.

2. Add onion, carrots, turnips, red pepper and zucchini and simmer 5 to 7 minutes or until vegetables are softened. Turn heat to high and bring to boil. Stir in couscous. Cover and remove from heat. Let stand for 5 minutes. Uncover and fluff with a fork. Season with salt and sprinkle with coriander. Serve with the turkey.
SHARE