Lemon Grass Panna Cotta with Orange Chili Caramel
Spring 2005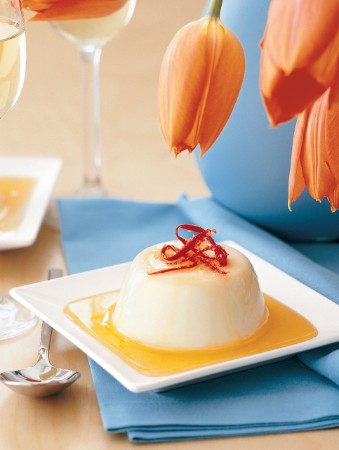 Lemon Grass Panna Cotta with Orange Chili Caramel
Spring 2005
BY: Lucy Waverman
A fellow Canadian, Kim Seagram, granddaughter of Sir Joseph Seagram, owns Stillwater Restaurant, a delightfully restored flour mill with an intimate, charming atmosphere in Launceston on the northern part of Tasmania. She produces wildly inventive Asian-influenced food. Here is one of her creative desserts adapted for our readers. This is definitely a different flavour for those feeling jaded about panna cotta. The caramel is only slightly spicy so as not to overwhelm the dessert.
1 cup (250 mL) milk
1½ cups (375 mL) whipping cream
1/3 cup (75 mL) sugar
1 stalk of lemon grass, lower third of bulb only, bashed with the back of a heavy knife to release juices, chopped
1 tbsp (15 mL) powdered gelatine

Orange Caramel
1 orange
1 tsp (5 mL) corn syrup
1 cup (250 mL) sugar
1 cup (250 mL) water

Candied Chilies
½ cup (125 mL) granulated sugar
½ cup (125 mL) water
1 fresh long red or green chili, seeded and halved
1. Combine ¾ cup (175 mL) milk, whipping cream, sugar and lemon grass in a medium saucepan. Bring to boil over medium-high heat. Reduce heat and simmer for 5 minutes. Remove from heat and let steep for 1 hour. Strain.

2. Pour remaining ¼ cup (50 mL) milk into small pot. Sprinkle in gelatine. Dissolve slowly on low heat, stirring occasionally. When fully dissolved, remove from heat and stir gelatine mixture into cream mixture. Let cool, stirring occasionally until cold.

3. Oil 4 medium ramekins or other small dishes and strain in custard mixture. Chill 4 hours or until set. Dip base of ramekins in hot water to loosen. Turn panna cotta out onto individual serving dishes or serve in the moulds.

4. For Orange Caramel, cut orange in half and squeeze out juice. Reserve 1/3 cup (75 mL) juice for sauce. Cut orange peels in half again.

5. Combine corn syrup, sugar, water and orange peel in a saucepan and stir over low heat until sugar dissolves. Add ¼ cup (50 mL) of water and bring to boil. Turn heat down to medium and continue to cook, swirling pan occasionally, for 30 minutes or until syrup becomes a pale golden colour. Pour in reserved orange juice and cook, stirring constantly for 2 minutes or until caramel has come together to form a syrup.

6. Remove pan from heat. Pour caramel into a heatproof bowl and remove orange peels. Set aside to cool.

7. For Candied Chilies, bring sugar and water to boil. Turn heat to medium and stir until sugar is almost dissolved. Add chili, reduce heat to a gentle simmer and cook 10 minutes or until almost translucent. Let cool in syrup and strain.

8. Add candied chilies to caramel and stir. Once cool, if caramel is too firm to stir, add a little warm water and stir over low heat until well-combined and caramel has a thick, pouring consistency.

9. Drizzle onto panna cotta.
SHARE