Jerk Chicken Sandwiches
Summer 2017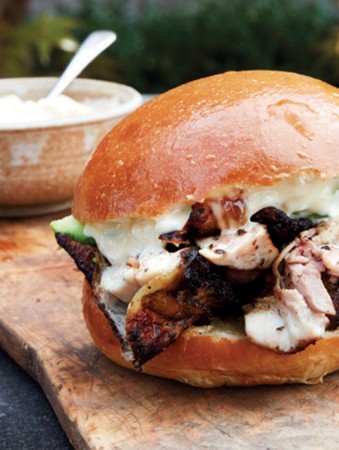 Jerk Chicken Sandwiches
Summer 2017
BY: Christopher St. Onge
Cooking jerk over gas is a missed opportunity. The way to great jerk, the sort that makes you dream of ditching your job for Montego Bay and a jerk shack on the beach, is undoubtedly cooking over wood—and lump charcoal is just that. Technique is also important: too hot a fire and the delicious marinade burns; let it cook too quickly and good quality jerk chicken's telltale pink meat will be white instead.
JERK PASTE
6 green onions, roughly chopped
1 to 4 Scotch bonnet peppers, stemmed
2 cloves garlic
4 tsp (20 mL) thyme leaves
1 tbsp (15 mL) ground allspice
1½ tsp (7 mL) coarsely ground black pepper
2 tsp (10 mL) salt
½ tsp (2 mL) ground nutmeg
¾ tsp (4 mL) ground cinnamon
2 tbsp (30 mL) lime juice
1 tbsp (15 mL) dark soy
4 tsp (20 mL) packed dark brown sugar

12 bone-in, skin-on chicken thighs
1 cup (250 mL) dried allspice berries (optional)
⅔ cup (150 mL) mayonnaise
2 tbsp (30 mL) apricot jam
2 chopped green onions
2 small ripe avocados
Juice of half a lime
6 soft white buns
1. For jerk paste; combine all jerk ingredients in a blender and process until smooth.

2. Toss chicken with half (about ⅓ cup/80 mL) of the jerk paste. Refrigerate remaining paste, covered, for up to a week.

3. Bring lump charcoal-fired grill to 325° to 350°F (160° to 180°C). Push charcoal to edges of kettle and place a drip tray (a disposable aluminum roasting pan is best) filled with 1 inch (2.5 cm) water in centre of kettle. If using the allspice berries, sprinkle over charcoal and replace grate.

4. Place chicken over indirect heat, close lid and cook for 20 minutes. Move chicken to hotter edges over direct heat and cook 5 to 7 minutes longer per side, uncovered, or until crisp, dark brown and juices run clear. Remove to a board and let rest for 10 minutes.

5. Meanwhile whisk together mayonnaise, apricot jam and green onion. Peel and cut avocados into thick slices and sprinkle with lime juice. Split buns.

6. To assemble sandwiches, carve chicken from the bones and divide meat and juices between bottom buns; top with avocado slices. Spread top buns liberally with the mayonnaise before placing on sandwiches.
SHARE