Icewine Caramel Corn
Holiday 2014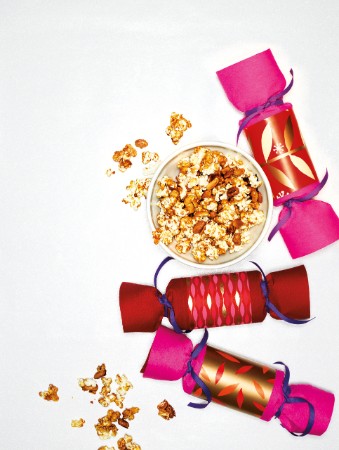 Icewine Caramel Corn
Holiday 2014
BY: Kristen Eppich
PREP: 25 minutes

READY IN: 1 hour 45 minutes

Icewine and maple syrup make this caramel corn the ultimate Canadian snack. The recipe calls for peanuts, but any roasted salty nut will work.
1 cup (250 mL) brown sugar
½ cup (125 mL) unsalted butter
3 tbsp (45 mL) corn syrup
2 tbsp (30 mL) maple syrup
1 tsp (5 mL) salt
¼ tsp (1 mL) baking soda
3 tbsp (45 mL) icewine
16 cups (4 L) popped corn
1 cup (250 mL) roasted, salted peanuts
1 Arrange racks in upper and lower thirds of oven. Preheat to 250°F (120°C). Line 2 baking sheets with parchment.

2 Melt sugar with butter, syrups and salt in a medium, heavy-bottom saucepan over medium-high heat. Stir until sugar has dissolved, then continue cooking until a candy thermometer reads 265°F (130°C), about4 more minutes.

3 Remove pan from heat and stir in baking soda with a wooden spoon. The mixture will expand and may splatter. Mix in icewine.

4 Mix 8 cups (2 L) popcorn and ½ cup (125 mL)peanuts in a large bowl. Spoon half of the caramel mixture over the popcorn and nut mixture, and toss to coat. Pour onto a baking sheet. Repeat with remaining corn and caramel and place on second baking sheet.

5 Bake in upper and lower thirds of oven for 1 hour, or until corn is crisp. Switch trays halfway through and stir every 15 minutes to ensure the caramel coats the corn well. Remove from oven and transfer sheets to a wire rack to cool completely. Break apart corn and serve at room temperature.
SHARE