Honey-Roasted Apricots, Chilled Icewine Sabayon & Linzer Cookies
Early Summer 2014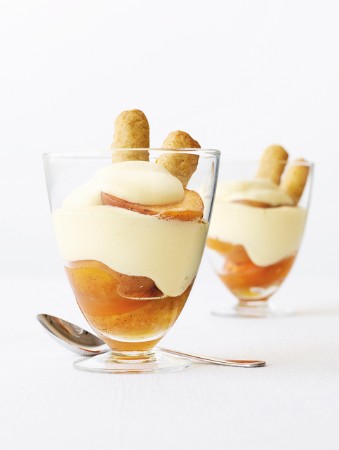 Honey-Roasted Apricots, Chilled Icewine Sabayon & Linzer Cookies
Early Summer 2014
BY: Joanne Yolles
A traditional Linzertorte contains raspberry or apricot jam enrobed in a flavourful nut and spice crust. This version—using roasted apricots, a chilled sabayon and crisp Linzer-like cookies—makes a simple and elegant presentation. To toast ground nuts for the cookies, spread on a baking sheet and bake in a 300°F (150°C) oven until fragrant and light golden brown. If you begin with whole nuts, toast until golden, and once they're cool, place in a food processor along with the flour. Process until the nuts are finely ground.
LINZER COOKIES
¾ cup (175 mL) unsalted butter, room temperature
½ cup plus 2 tbsp (125 mL plus 30 mL) sugar
1 egg
1 yolk
½ tsp (2 mL) vanilla extract
Grated rind of 1 orange
Grated rind of 1 lemon
1¼ cups (310 mL) all-purpose flour
⅓ cup (80 mL) ground almonds, lightly toasted
⅓ cup (80 mL) ground hazelnuts, lightly toasted
½ tsp (2 mL) baking powder
¼ tsp (1 mL) kosher salt
¾ tsp (4 mL) cinnamon
Pinch ground cloves

HONEY-ROASTED APRICOTS
6 tbsp (90 mL) honey
3 tbsp (45 mL) water
2 tsp (10 mL) lemon juice
½ vanilla bean
12 fresh apricots cut in half and pits removed

CHILLED ICEWINE SABAYON
4 egg yolks
3 tbsp (45 mL) sugar
½ cup (125 mL) icewine or late harvest Riesling
⅔ cup (150 mL) whipping cream
1 For the linzer cookies, preheat the oven to 350°F (180°C). Line a baking sheet with parchment paper and set aside.

2 Cream butter and all the sugar together in an electric mixer using the paddle attachment. Continue beating until the mixture is smooth and light. Add the egg and yolk, then the vanilla and grated rind, and continue beating, scraping down the bowl 1 or 2 times.

3 Combine the flour, ground nuts, baking powder, salt, cinnamon and cloves in a separate bowl and, with the mixer on low speed, add to the butter mixture. Increase the speed to medium and beat until combined.

4 Transfer the dough to a piping bag fitted with a ½-inch (1-cm) plain tip. Pipe the dough in 2-inch (5-cm) lengths, spacing them about 2 inches (5 cm) apart.

5 Bake for 15 to 18 minutes or just until golden. (The cookies can be made 4 to 5 days in advance and kept in a sealed container at room temperature. They also freeze well.)

6 For the honey-roasted apricots, combine the honey, water and lemon juice in a 9 x 13‑inch (3-L) baking dish. Split the vanilla bean in half lengthwise and scrape the seeds into the honey mixture. Add the vanilla pod.

7 Place the apricot halves in the dish and toss gently to coat with the liquid.

8 Arrange cut-side up and roast in 350°F (180°C) oven, brushing occasionally with the juices until tender, about 20 minutes. Remove from oven and cool to room temperature.

9 For the sabayon, whisk together the egg yolks, sugar and wine in a medium stainless steel bowl. Place the bowl over a pot of simmering water, making sure the bottom of the bowl does not touch the water. Cook, whisking constantly, until the mixture is thick and hot to the touch, about 3 minutes. Set the bowl in another bowl filled with ice water, whisking occasionally until cool.

10 Whip the cream to stiff peaks in a separate bowl, then fold into the egg mixture. Refrigerate until serving. The sabayon should be prepared the same day.

11 To serve, place 2 apricot halves in the bottom of each serving bowl. Top with sabayon, then another apricot half. Finish with another spoonful of sabayon. Place cookies on the side and serve.
SHARE