Hasty Christmas Pudding with Orange Hard Sauce
Holiday 2004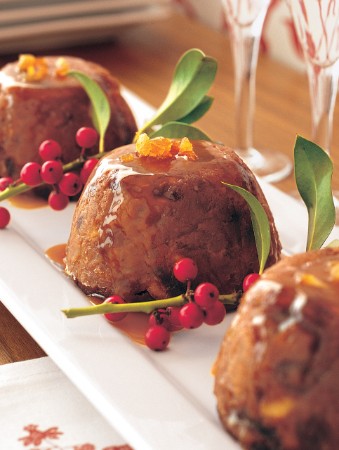 Hasty Christmas Pudding with Orange Hard Sauce
Holiday 2004
BY: Lucy Waverman
No Victorian Christmas would be complete without a "plum" or Christmas pudding. It would be put up months ahead of time and esteemed on Christmas Day. The pudding was very rich and heavy. Although our pudding looks like a traditional one, it is lighter and tastier than a regular Christmas one. The secret is to soak the fruit every day before making the recipe. This method means you do not have to think about making it 2 months in advance, you make it the day of or a few days ahead. Substitute ground almonds for the hazelnuts or omit the nuts altogether.
1 cup (250 mL) raisins
1 cup (250 mL) sultanas
½ cup (125 mL) currants
1 cup (250 mL) dried cranberries
1 cup (250 mL) candied orange peel
1 cup (250 mL) ground hazelnuts
6 tart apples, peeled and chopped
1¼ cups (300 mL) brown sugar
½ tsp (2 mL) ground cloves
2 tsp (10 mL) ground cinnamon
1 tsp (5 mL) ground ginger
1 tsp (5 mL) ground nutmeg
1 tsp (5 mL) salt
1 cup (250 mL) all-purpose flour
3 cups (750 mL) fresh bread crumbs
Grated rind and juice of 1 lemon and 1 orange
1½ cups (375 mL) brandy
6 eggs, beaten
¾ cup (375 mL) softened butter, cut up into small pieces


1. In a large bowl, combine the raisins, sultanas, currants, cranberries, orange peel, hazelnuts, apples, sugar, cloves, cinnamon, ginger, nutmeg, salt and flour. Toss well.

2. Stir in bread crumbs, rind, juice and ½ cup (125 mL) brandy. Combine everything well.

3. Cover and leave in a cool place (not the refrigerator) for 4 days, stirring in ¼ cup (50 mL) brandy each day.

4. On the fifth day, beat the eggs and stir into the fruit. Mix in butter.

5. Line a 10-cup (2.5-L) heatproof bowl or individual heatproof moulds with greased foil. Pour in the pudding. Cover with more foil or tie a cloth over the bowl.

6. Place the bowl on a trivet in a large pot. Add water to the pot, but don't allow the water to touch the bowl. Bring the water to a boil, cover and steam for 3 hours, making sure the water stays boiling. Check the water level occasionally and add more boiling water if necessary.

7. Remove the pudding from the steamer (reheat when needed by re-steaming for 1 hour).

8. Turn out onto a platter, top with holly and flame with ¼ cup (50 mL) extra brandy, if desired.

Orange Hard Sauce
1½ cups (375 mL) granulated sugar
½ cup (125 mL) water
¼ cup (50 mL) orange juice
¼ cup (50 mL) butter
¼ cup (50 mL) orange liqueur

1. Combine sugar and water together in heavy pot.  Bring to boil, and boil for 5 to 7 minutes or until mixture is amber coloured.

2. Remove from heat and pour in orange juice. When mixture stops bubbling, stir in butter and orange liqueur.
 
3. Stir occasionally as mixture cools. If mixture is too thick, stir in a few drops of hot water to thin out. Serve sauce warm or at room temperature.
SHARE