German Strawberry Wine Soup
Early Summer 2019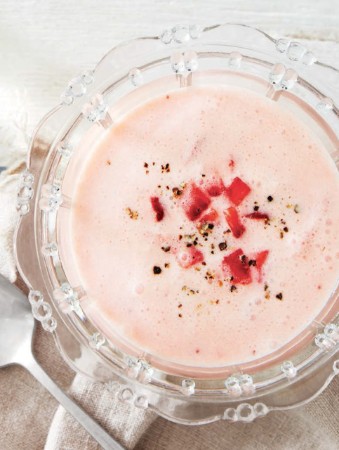 German Strawberry Wine Soup
Early Summer 2019
BY: Signe Langford
This pretty pink soup is a revelation. It's sweet, cool and creamy, and the gorgeous flavour of a good Riesling really comes through. Serve chilled to commence or cap an elegant summer brunch, lunch or dinner. For this version we've used an off-dry German Riesling, but any favourite off-dry Alsatian or Canadian Riesling will also do. It's very rich, so make the servings a little smaller than normal.
2½ cups (625 mL) strawberries, greens removed, divided
½ cup (125 mL) crème fraîche
2 cups (500 mL) off-dry Riesling
1 cup (250 mL) fat-free vegetable broth
⅔ cup (150 mL) 35% cream
¼ to ½ tsp (1 to 2 mL) sea salt, depending on saltiness of broth
½ tsp (2 mL) white pepper
¼ cup (60 mL) finely chopped chives
1 Add 2 cups (500 mL) of the strawberries and the crème fraîche to a food processor and blend on high for about 1 minute to purée; transfer to a large bowl.

2 To the bowl of strawberry and crème fraiche purée, add the wine, broth, cream, salt, pepper and chives; whisk until completely smooth and incorporated. Set in the fridge to chill, covered, for at least 30 minutes, but the soup can be made the day before.

3 Just before serving, finely dice the remaining strawberries; then transfer them to a small serving dish.

4 When ready to serve, transfer chilled soup to a jug or soup tureen and bring to the table along with a dish of the diced strawberries. Garnish each serving with a spoonful of strawberries, and a grating of fresh black pepper, if desired.
Makes about 6 cups (1.5 L) of soup; serves 6 to 8
SHARE