Flamed Mulled Wine
Holiday 2020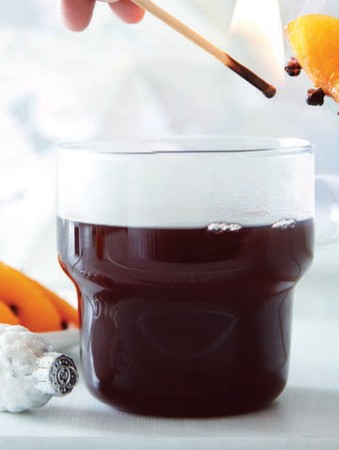 Flamed Mulled Wine
Holiday 2020
BY: Charlene Rooke
Start by making a wine syrup that combines savoury spices into a complex base. Briefly flaming a clove-studded orange peel is not only dramatic, but creates delicious caramelized flavour—and a garnish!
2 oranges, peel removed and juiced
Peel of 1 lemon
1/2 cup (125 mL) maple syrup
6 whole cloves, plus more for garnish
1 cinnamon stick
1 star anise
3 dried bay leaves
6 juniper berries, lightly crushed
1/2 split vanilla pod
1 bottle (750 mL) fruity, dry red wine
1 cup (250 mL) water
3 oz brandy
Flamed Orange Peels (instructions follow), for garnish
1. Add citrus peels, orange juice, maple syrup, spices, juniper berries, vanilla, 2 to 3 oz of wine and enough water to cover flavourings to a large saucepan and stir thoroughly to combine. Heat over high until it boils, then reduce heat to medium and simmer for about 5 minutes, until syrupy and thick. Reduce heat to low and add 1‑cup (250 mL) of water, rest of wine and brandy. Heat for 5 minutes, until thoroughly warmed.

2. To serve, remove solids using a slotted spoon and discard. Using a heatproof ladle, portion into heatproof cups or mugs. Flame each drink with a clove-studded Flamed Orange Peel right before serving.
FLAMED ORANGE PEELS

1. Wash 1 orange in cool water. Using a sharp paring knife, cut toonie-sized pieces from the skin, thick enough to include a bit of white pith but no fruit (about the thickness of a dime). Push sharp ends of 2 to 3 cloves through thickest part of skin (optional).

2. To the side of cocktail glass (not directly overtop drink), hold a lit wooden match or culinary or candle-lighting torch in one hand. Hold 1 piece of peel in other hand between thumb and index finger, skin-side facing flame. Warm peel for about 5 seconds, then quickly snap edges together to fold it in half, expressing the orange oils into flame and creating a brief flash. Drop flamed peel into drink as garnish.

Makes 8 to 10 garnishes
SHARE