Fennel-Strawberry Smash
Early Summer 2014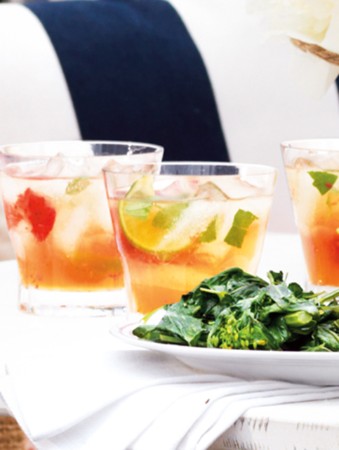 Fennel-Strawberry Smash
Early Summer 2014
BY: Victoria Walsh
This cocktail carries a serious summery feel and is best enjoyed while relaxing on a dock. If making ahead, fennel syrup will keep well, covered and refrigerated for at least 1 week.
½ fresh fennel bulb with fronds
¾ cup (175 mL) granulated sugar
¾ cup (175 mL) water, preferably distilled
3 small strawberries, trimmed and cut in half
1 sprig mint, leaves removed
1 large lime wedge
1½ oz amber Jamaican rum or Añejo Blanco rum
Ice cubes
2½ to 3½ oz club soda
1 Cut off feathery fronds from the fennel and set aside for garnishing. Coarsely chop fennel. Stir sugar with water and fennel in a small saucepan. Bring to a gentle simmer over medium heat. Stir occasionally until sugar dissolves. This will take about 5 minutes. Remove from heat. Let cool completely. When cool, strain.

2 Place strawberries, mint leaves and lime wedge in a rocks glass. Pour in ¾ oz syrup.Using a muddler or the handle of a wooden spoon, gently smash ingredients. Add rum.Stir. Add ice cubes. Top with soda. Stir again.Top with more soda, if you like. Garnish with fennel fronds, if you like.
Makes 1 cocktail and 1 cup (250 mL) fennel syrup (enough for 12 cocktails)
SHARE