Falafel-Crusted Salmon with Herbed Cucumber Salad
Early Summer 2018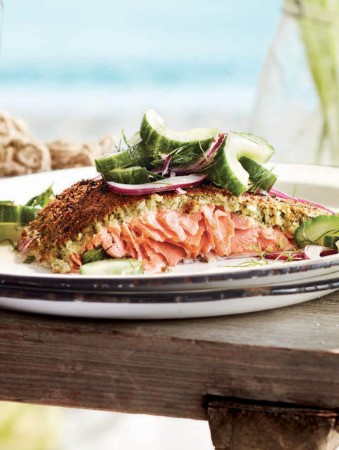 Falafel-Crusted Salmon with Herbed Cucumber Salad
Early Summer 2018
BY: Christopher St. Onge
Save this showstopper for entertaining your hardest-to-impress friends. Topped with a subtly spiced falafel crust, and served with a cooling sweet-tart cucumber salad, it's the height of summery deliciousness. It's so good fresh and hot but stands up well even cooled to room temperature or left overnight in the fridge. Whatever you do, don't use canned chickpeas—they result in a mushy mess rather than in a crisp coat. Plan ahead as the dried chickpeas need to soak overnight.
HERBED CUCUMBER SALAD
1 large English cucumber
1 tsp (5 mL) salt, divided
¼ cup (60 mL) grape-seed or mild olive oil
2 tbsp (30 mL) white wine vinegar
1 tbsp (15 mL) lemon juice
1½ tsp (7 mL) sugar
½ small red onion, sliced
¼ cup (60 mL) chopped dill
¼ cup (60 mL) torn mint leaves
½ cup (125 mL) dried chickpeas, soaked overnight in water
2 tbsp (30 mL) each chopped parsley, mint and cilantro
½ small onion, roughly chopped
1 clove garlic
½ tsp (2 mL) ground cumin
¼ tsp (1 mL) ground coriander
1¼ tsp (6 mL) salt
1 tbsp (15 mL) well-stirred tahini
½ tsp (2 mL) baking powder
2 to 2½ lbs (1 to 1.25 kg) skin-on coho or chinook salmon fillet, pin-boned
2 tbsp (30 mL) grape-seed or mild olive oil
1. Cut cucumber in half lengthwise and, using a teaspoon, remove and discard seeds. Thinly slice and place in a colander in sink. Sprinkle with ½ tsp (2 mL) salt and let stand 30 minutes.

2. Meanwhile, combine remaining ½ tsp (2 mL) salt, oil, vinegar, lemon juice, sugar and red onion in a salad bowl; add drained cucumber to bowl along with dill and mint. Toss to combine and refrigerate for at least 1 hour before serving (salad may be made up to a day in advance).

3. Drain chickpeas and add to food processor along with parsley, mint, cilantro, onion and garlic. Sprinkle with cumin, coriander and salt. Add tahini and baking powder; process until paste comes together and chickpeas are finely chopped but with some texture remaining. Refrigerate for 30 minutes to firm up.

4. Arrange salmon on a foil-lined baking sheet. Firmly press falafel mixture evenly over top of salmon flesh to completely cover. Brush falafel mixture with oil.

5. Broil salmon on high, 4 inches (10 cm) from broiler, for 7 to 8 minutes or until top is golden and fish is medium-rare. Carefully remove fish from foil, leaving skin behind, and transfer to a platter. Serve with herbed cucumber salad, spooning extra dressing around fish.
SHARE