Dulce De Leche Mousse
Spring 2003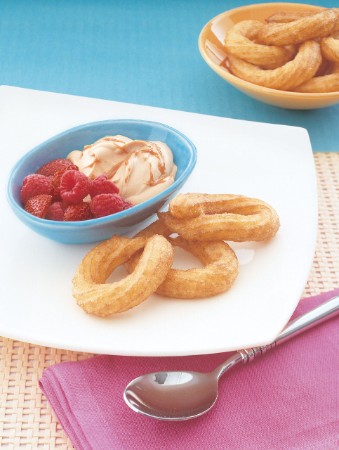 Dulce De Leche Mousse
Spring 2003
BY: Lucy Waverman
Dulce De Leche Mousse is a delicious, South American inspired caramel-flavoured dessert.

Dulce De leche is a caramelized version of condensed milk, very popular in South American countries. It is now a trendy flavour and appears in many different forms including ice cream. Dulce de leche can be made from scratch, it can be bought already made in jars at gourmet shops or it can be made with condensed milk. We make ours from scratch. If you make this yourself, don't scrape down the sides of the pan. The baking soda gives the dulce de leche its caramel colour, but you can make it without.

Beignets: A beignet is a mouth-watering fried choux pastry. A star shaped piping tube makes an elegant looking beignet. Make earlier in the day and re-crisp in a 350°F (180°C) oven for 2 to 3 minutes - not as perfect as straight from the fryer, but acceptable. You can make your own piping bag by putting the mixture in a plastic baggie and cutting off the corner.
Dulce De Leche Mousse
1 cup (250 mL) dulce de leche (recipe follows)
1 cup (250 mL) whipping cream

Garnish
2 cups (500 mL) raspberries, strawberries or blackberries


1. Place dulce de leche in a large bowl.

2. Whisk cream until it thickens and holds its shape. Fold into the dulce de leche gently to make mousse. Place mousse in 4 dishes and top each with 1/2 cup (125 mL) berries. Drizzle on extra dulce de leche and run the point of a knife through it to make patterns. Chill for 4 hours or overnight.

Dulce De Leche
4 cups (1 L) whole milk
1 cup (250 mL) granulated sugar
1/2 tsp (2 mL) baking soda


1. Combine milk and sugar in a large, heavy pot.  Bring to a boil.  Add soda and turn the heat to medium-low, stir until froth mostly subsides, about 15 minutes.
2. Continue to simmer, stirring occasionally so that milk froth solids don't form. (Dulce de leche may need to be skimmed after 30 minutes).  Continue cooking until mixture begins to thicken - the whole process can take up to 2 hours depending on the width of your pot and the heat of your stove.  When the froth and the milk are about the same colour start to stir continuously, usually about 15 minutes or until you can see the bottom of the pan when you draw a wooden spoon through the mixture.  It will be quite thick and spreadable. Pour into a bowl to cool.
Makes about 1 1/4 cups (300 mL)

Beignets
3/4 cup (175 mL) water
1/4 cup (50 mL) butter
3 tbsp (45 mL) granulated sugar
3/4 cup (175 mL) all-purpose flour
3 eggs
1 tbsp (15 mL) lemon zest
1. Bring water, butter ands sugar to a boil over medium-high heat. Remove from heat and mix in all the flour at once. Beat together with a wooden spoon until the flour is all incorporated. Return to heat and keep beating until the mixture leaves sides of the pot, about 1 to 2 minutes.

2. Remove from heat again and, with a wooden spoon, beat in eggs, 1 at a time, until fully incorporated and the mixture is smooth. Beat in lemon zest.

3. Heat a wok one-third full of oil, or a deep fryer to 350°F (180°C)  or until a cube of bread turns brown in 15 seconds.

4. Place mixture into a piping bag and pipe circles or ropes of dough immediately into the oil. Fry until golden, about 1 minute.


Makes about 18 4-inch (10-cm) long ropes
SHARE