Cranberry Chutney
Holiday 2008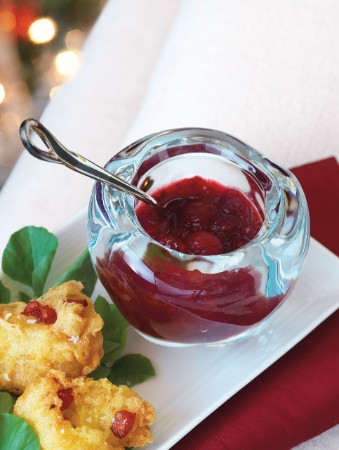 Cranberry Chutney
Holiday 2008
Roger Mooking

This simple and sweet-tart chutney can be made days ahead.
⅔ cup (150 mL) frozen whole cranberries
½ cup (125 mL) water
2 tbsp (25 mL) granulated sugar
¼ tsp (1 mL) whole fennel seeds
1. Put all ingredients in a saucepan and place on stovetop over medium heat. Bring to a boil then reduce heat to low and simmer. Continue to simmer for about 10 minutes or until cranberries begin to soften and break down. Remove saucepan from heat. Using a potato masher, coarsely mash the cranberry mixture. Return saucepan to the stovetop on low for 5 more minutes or until thickened. Place cranberry chutney in a serving bowl, and allow to cool to room temperature.
Makes about 1 cup (250 mL)
SHARE