Carrot "Hot Dogs" with Curried Yogurt, Pistachios & Cilantro
Summer 2020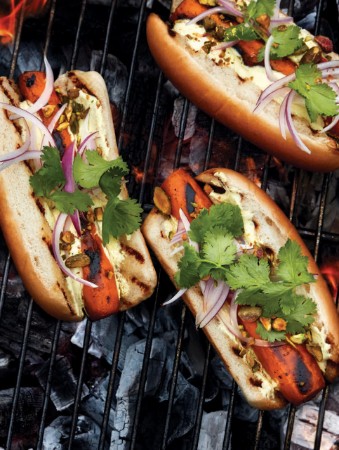 Carrot "Hot Dogs" with Curried Yogurt, Pistachios & Cilantro
Summer 2020
BY: Eric Vellend
Steamed, glazed then finished on the grill, smoky-sweet carrots are a natural fit for a hot dog bun. But instead of the usual ballpark condiments, we dress them up with curried yogurt, crunchy pistachios and cool cilantro. Don't be tempted to skip toasting the buns: the extra flavour and texture are crucial.
1 cup (250 mL) carrot juice
2 tbsp (30 mL) white miso paste
2 tbsp (30 mL) pure maple syrup
1 tsp (5 mL) smoked paprika
8 medium carrots, peeled, trimmed to fit buns
1 cup (250 mL) full-fat Greek yogurt
2 tsp (10 mL) fresh lime juice
1 tsp (5 mL) good quality curry powder
1 small clove garlic, grated on rasp
Salt to taste
8 small hot dog buns
8 tsp (40 mL) butter, melted, divided
½ cup (125 mL) thinly sliced red onion
½ cup (125 mL) roasted salted pistachios, coarsely chopped
1 cup (250 mL) cilantro leaves
1 In a large sauté pan, heat carrot juice, miso, maple syrup and paprika over medium-high heat, whisking to dissolve miso paste. When it comes to a boil, add carrots, cover and reduce heat to maintain a steady simmer. Cook, turning occasionally, until slightly al dente, 12 to 14 minutes. Transfer carrots to baking dish and raise heat under sauté pan to medium-high. Reduce cooking liquid, stirring often, until it has the consistency of barbecue sauce, about 3 minutes. Return carrots to pan and turn to coat in sauce. Remove from heat and cool in pan. (Carrots will keep, covered and refrigerated, for up to 5 days. Bring to room temperature before grilling.)
2 In a small mixing bowl, whisk yogurt, lime juice, curry powder, garlic and salt until combined. Cover and refrigerate up to 3 days.
3 Preheat grill to medium-high. Clean and oil grate.
4 Grill carrots, turning occasionally, until lightly charred, 4 to 5 minutes in total. Brush cut sides of buns lightly with butter (1 tsp/5 mL on each) and grill until toasted, about 20 seconds.
5 Serve carrot dogs in buns with curried yogurt, onion, pistachios and cilantro.
SHARE